Ducted Air Conditioning North Brisbane
Brisbane is seeing an increase in demand for ducted air conditioners, and it's easy to understand why.
Ducted air conditioning is not only noise efficient but also offers great energy efficiency. Its clever zoning features reduce energy consumption significantly, by allowing you to pick and choose the areas you cool.
If you're impressed by these features, you'll be even more impressed after the air conditioning installation process—ducted systems are known for their clean and neat finish.
With their discreet appearance, increased energy efficiency, and individual temperature control feature, it is no wonder ducted air conditioners are in such high demand.
When it comes to ducted air conditioning, residents and businesses in North Brisbane, Sunshine Coast & Caboolture can rely on the quality services from Temper Troops.
Established over a decade ago, Temper Troops has established itself as a premier air conditioning business, specialising in ducted air conditioning installations and servicing.
We're represented on the ground by a team of qualified refrigeration mechanics & electricians whose knowledge and experience in the industry are unparalleled. From ducted air conditioners to split system air conditioning, you can trust us to find the right cooling solution for your home.
Get in touch with our friendly team for a free quote. We can help you find the perfect ducted solution.
Ducted air conditioning installation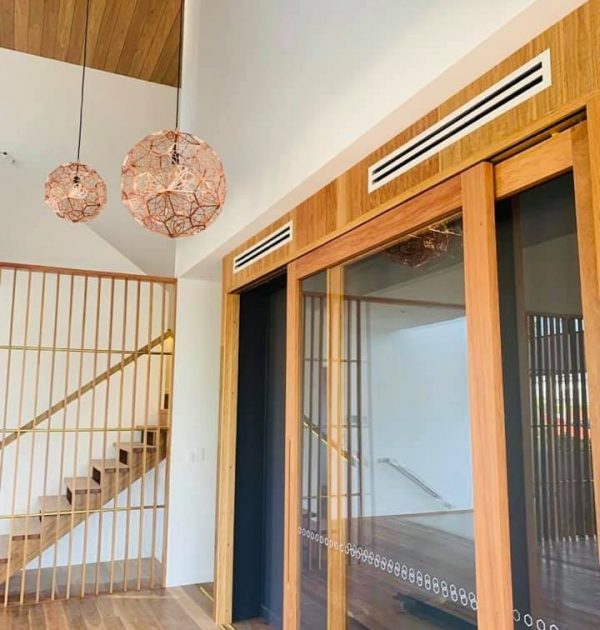 A ducted air conditioning system is ideal for cooling or warming an entire home, due to its ability to service rooms individually.
Ducted systems have an inverter unit, which is located outside, and an indoor unit. The indoor unit is installed discreetly, usually in the ceiling, wall, or floor space of your home.
Temper Troops will handle all aspects of the installation process. First, we will assess the needs of your property and recommend the ideal air conditioning system best suited to your cooling and heating needs. Later on, we will supply and install the units. We will also take care of all custom ductwork and electrical piping that needs to be added.
You can rest easy knowing you are in the most capable hands in the entire Brisbane Northside region.
Worried about the cost of ducted air conditioning Brisbane services?
Our ducted air conditioning Brisbane price is affordable across all budgets. We competitively price our services to ensure that local businesses and homes can enjoy the comfort of air conditioning.
Contact the Brisbane air experts at Temper Troops, with all your ducted air conditioning queries.
Searching for the best Daikin ducted air conditioning prices Brisbane has to offer?
Affordable and professional solutions are available at Temper Troops.
Brisbane air conditioning service
Is your air conditioner a bit on the outdated side? Is the cooling system clunky or does it make a strange noise when you turn it on? These are signs that you might need to upgrade to a new model or system.
Call the specialists at Temper Troops and request a retrofit service.
Installing a new ducted air conditioner, into an existing residential home, is one of the more challenging installation jobs we can receive around the North Brisbane area. Homeowners and business owners usually want to retain the finishes of the ceiling, floor, and walls.
If you are looking to install a new ducted system into your home, our team will assess the ceiling space and size of the room. If the roof or ceiling space is restricted, our technicians can install wall registers and work around them. A thorough inspection of the ductwork will also be done to determine its capability of handling the extra workload.
Temper Troops will also take into consideration the use of the room, frequency, and other insulation fittings before recommending a cooling solution.
Are you looking to upgrade the ducted system of your Brisbane Northside home? Rely on the number one air conditioning experts for an energy-efficient aircon installation and retrofit service.
You can email us your specific requirements or use our online form.
Ducted air conditioning specials Brisbane
Queensland is a sub-tropical state so Brisbane is no stranger to humidity and heat. But sometimes the heat gets a bit too much.
At Temper Troops, we believe every residence and business in North Brisbane, Sunshine Coast, and the wider Qld region should enjoy the cooling power of a ducted air conditioner. That's why we have a number of fantastic specials that make installations more affordable.
Ducted air conditioning (Brisbane) interest-free installation. We have partnered with several brands in the area throughout Brisbane. Get in touch with us to have all your questions answered.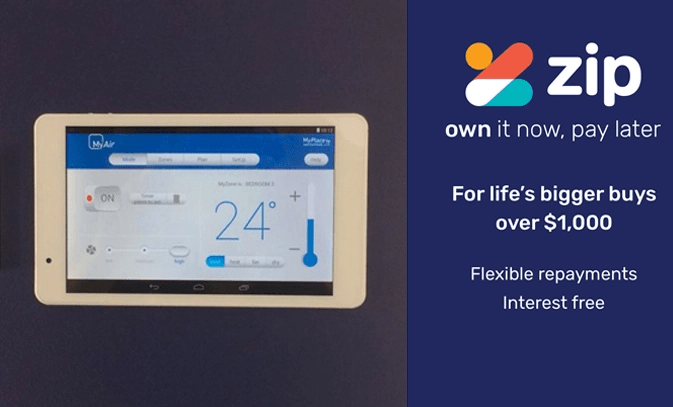 Seasonal specials. For the best ducted air conditioning Brisbane prices, keep an eye our for Temper Troops' wide range of seasonal offers. As a business or homeowner, you don't want to miss out on this. Always keep your eye on our page for new ducted air conditioning Brisbane specials
Split system air conditioning services
For split system installations, you should expect two sections; an indoor unit and an outdoor one, hence the name split system. The two sections are connected by refrigerant piping.
Depending on the room and the space available, split system air conditioners can either be floor, wall, or roof-mounted.
Considering split system conditioning services in Brisbane? Talk to the split systems experts at Temper Troops! We can help you with air conditioning installation, repairs, and maintenance.
Call our friendly team today for a free quote.
Commercial air conditioning
If you're looking to control the temperature in your commercial space, we can design, supply, and install air conditioning systems that fit your exact air conditioning needs. We have all the latest models from the leading brands in the country and our knowledge is second to none.
Businesses and commercial spaces based in Brisbane Northside, North Lakes, Chermside, Aspley, Everton Park, Albany Creek, Carseldine, and Brisbane North are in luck! Temper Troops is your local one-stop shop for high-quality commercial air conditioning solutions. We specialize in the installation, repair, and servicing of ducted systems, split systems, cassette systems, and other types of air conditioners.
We will only recommend major brands with the latest features and best warranties that we believe will provide the perfect solution for your customers and staff. Thanks to our rapport with superior air conditioner manufacturers, we can also offer you great ducted air conditioning specials on quality systems.
Commercial air conditioners are the investment you need to take your business to the next level.
Contact the team at Temper Troops, Brisbane Northside, to get a free quote, tailored to your commercial needs.
Air conditioning Repairs service
Without a regular service and maintenance plan in place, your aircon system is bound to need premature repairs. Regular servicing of your ducted air conditioning system ensures that parts are running efficiently and each unit is operating optimally.
If your ducted system isn't working as efficiently as it should be, contact the experts in air con repairs at Temper Troops. Our team of qualified team technicians offers the best repair service in North Brisbane.
We also offer an emergency call-out service to North Brisbane residents and businesses. As your local, professional air con company, we always have a team geared and ready to head out when they get the call.
For the best ducted air conditioning Brisbane services
Servicing Brisbane North, North Lakes, Caboolture, Redcliffe & Sunshine Coast, we are the reliable air conditioning company to assist in the installation, repair, service and maintenance of your ducted air conditioner.
With over a decade of experience in the electrical trade, we are the Brisbane air experts—we can supply and install an air conditioner that fits your exact need.
Residential and commercial air conditioning services in Northside Brisbane are fully guaranteed thanks to our dedication to high standards of professional service and quality workmanship.
When it comes to ducted air conditioning, North Brisbane residents and businesses put their trust in Temper Troops. There is nobody more knowledgeable, experienced, or qualified when it comes to air conditioning systems.
You deserve quality air conditioning in every room in your house. Our qualified technicians at Temper Troops are can help you make your aircon dreams a reality.