Ducted Air Conditioning Sunshine Coast
We service the entire Sunshine Coast, from Caloundra to Noosa. Whether you're looking for a brand new installation or service repairs and maintenance for your current air conditioning system, we can help you with your aircon needs. Give us a call on (07) 3293 0005 anytime to schedule an appointment. You can also find our Sunshine Coast Office with a click of a button, on Google Maps.
#1 Air Conditioning Company on the
Sunshine Coast locals enjoy pristine beaches and a subtropical climate with warm weather all year round. During the summer months, when the heat turns up, it's not just the temperature that rises—humidity levels on the Sunshine Coast can hit upwards of 90% and the air can become stifling and uncomfortable.
Most local residents and businesses choose to have air conditioning installed to ensure they keep cool and comfortable indoors, regardless of the heat outside.
Temper Troops are the specialists in air conditioning on the Sunshine Coast locals trust. We offer a wide range of quality commercial and residential options at an affordable price. Give our friendly customer care team a call today—we can help find the perfect air conditioning solution for you.
Your Best choice for conditioning on the sunshine Coast
Ducted Air Conditioning System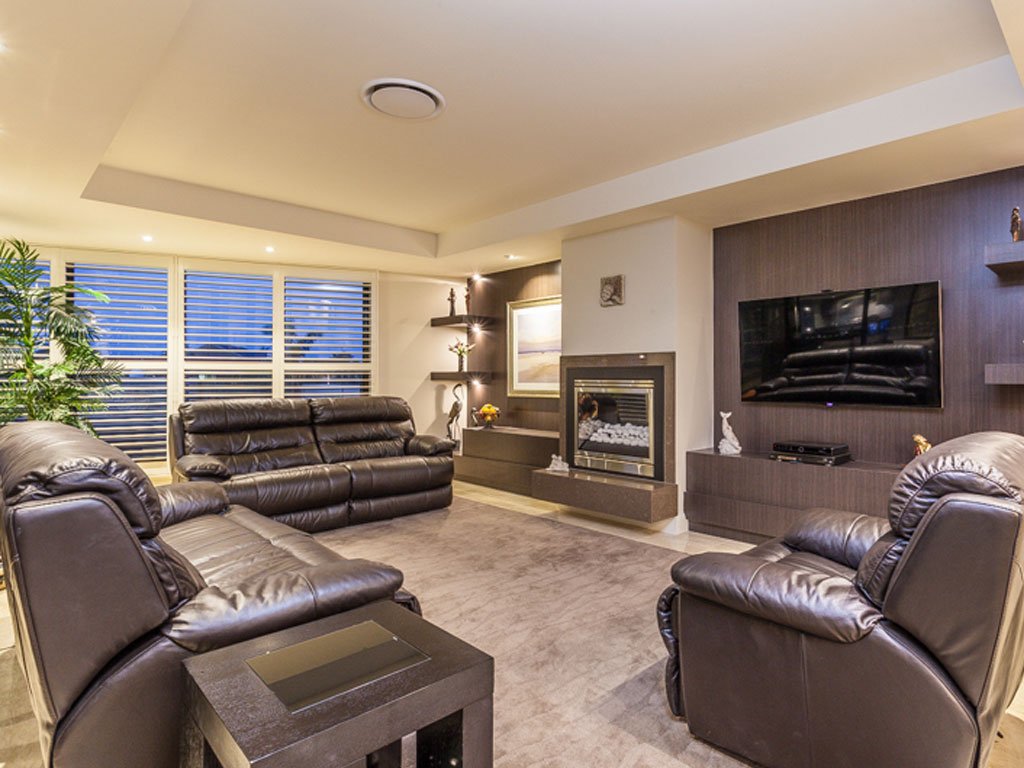 Prefer a ducted air conditioner option?
Ducted systems have become increasingly popular on the Sunshine Coast, especially for properties that boast multiple rooms and living areas. A quality Daikin system with MyAir transforms each room into an isolated zone, where cooling and heating can happen independently. That means each user is free to control the climate in their own space, and you can cut the cost of your energy bill by only cooling or heating a room that's in use.
Are you interested in having a quality ducted installation in your home? Here's what you can expect.
During the installation of your system, the compressor will be installed outside and the indoor unit will be concealed in the ceiling. Your roof space is the optimum place to conceal an air conditioner unit and ceiling installations are commonly recommended.
Daikin ducted systems make use of inverter technology. As a result, less power is used with these air conditioners and the ducted system runs more efficiently and quietly. It's a win-win. You can enjoy an ideal indoor climate with a system that's effective and discreet and cut the cost of your power bill!
Ducted systems are set to operate certain zones of the home so your entire home doesn't have to be cooled if certain rooms aren't being used. Bedrooms can be kept at a warmer temperature during the day and cooled at bedtime. You can control the temperature in rooms that receive a lot of shade during the day and set another temperature in the rooms that receive more sun. Zone temperature control helps keep cooling costs down.
Another advantage of ducted systems is that they leave less of a footprint in each room, in terms of aesthetics and space. The majority of moving parts are located outside or in the ceiling or roof space so you can enjoy the look of your home as well as the indoor climate.
From our experience, Daikin ducted reverse cycle air con are the best systems on the market. With their sleek inverter technology, there are a number of benefits to having a Daikin reverse cycle system, including premium quality construction, compact design, and powerful but energy-efficient climate control for every room. If you're considering a ducted system, we highly recommend you consider something from the  Daikin air conditioners range.
Call the Sunshine Coast air con professionals at Temper Troops today, and ask about our ducted home climate services.
We have all the major brands; MyAir, Daikin, Fujitsu & Mitsubishi Electric ducted systems. Our Sunshine Coast ducted specialists are experts when it comes to reverse cycle and inverter technology. Let us help you find a ducted system solution that works for you.
Talk to the Sunshine Coast air conditioning specialists—contact our friendly team today for a free quote. Whether it is home or commercial air conditioner solutions, Temper Troops can match you with the right system for your air con needs with expert air conditioning service.
Your number 1 choice for ducted air conditioning sunshine coast locals trust
Older homes on the Sunshine Coast often lack quality insulation; as a result, the summer heat can be unbearable and winter nights can be too cool. Ducted systems may not always be the right air conditioning option for older properties.
Thankfully, if you have an older property, you can still cool your home. A split system air conditioning unit will ensure your home remains at a comfortable temperature while maintaining its natural charm.
Split systems are also a great option for Sunshine Coast homes, if only a certain area of your home needs to be cooled. Or perhaps you have a granny flat or studio that needs cooling but don't want to add to the existing ductwork of your current system. There are a number of situations where we might recommend you install a split system air conditioning unit.
Split system air conditioners consist of two units—a condensing unit, which is located outside, and an internal unit, which is located on the internal wall. Piping connects these two units together.
PROFESSIOnAL Split System Air Conditioning Solutions For your home Or business

A lot of our Sunshine Coast customers choose to have a back-to-back system installed. With this installation option, the interior and exterior units are mounted on either side of an external wall of the home. This reduces the amount of wiring and piping needed to join the two components.
Do you have an inquiry about split system air options? From servicing, installation or all systems or anything refrigeration to electrical, we have a wide range of professional quality services to address all your climate needs. With full warranty on all our heating and cooling products and fully licensed fast installations, we have an affordable solution for every budget, whether domestic or commercial.
Call or email our pros in air conditioning on the sunshine at Temper Troops for a free quotes today. Our friendly expert team is ready to find the perfect split system solution for you. Contact Us now. 
Commercial Air Conditioning Sunshine Coast
Do you own commercial premises on the Sunshine Coast?
Because of the sub-tropical heat and humidity, it's important for businesses on the Sunshine Coast to consider the cooling and heating needs of both their customers and their staff.
Temper Troops Sunshine Coast Air Conditioning Service and Installation team can help you select and install the ideal air conditioner that gives your shop, office, or warehouse the perfect ambient temperature.
We have a number of options air con available for commercial premises. Larger buildings can benefit from a ducted air con Sunshine Coast installation service. We can install a split system air conditioner anywhere on the Sunshine Coast in a commercial office space or warehouse so you can cool those areas in need of climate control. Other viable options for commercial premises include multi-head systems, VRV air conditioning systems, and rooftop packaged systems.
Call or email our professional team today and one of our air conditioning installation specialists can help you find the perfect system for your commercial or business premises. Find out why we are the number one name in professional air conditioning on the Sunshine Coast.
3 Reasons our clients love us
We are the Sunshine Coast's air conditioning experts. From split system air conditioning and ducted systems to cassette air cons, Temper Troops are the professionals to call.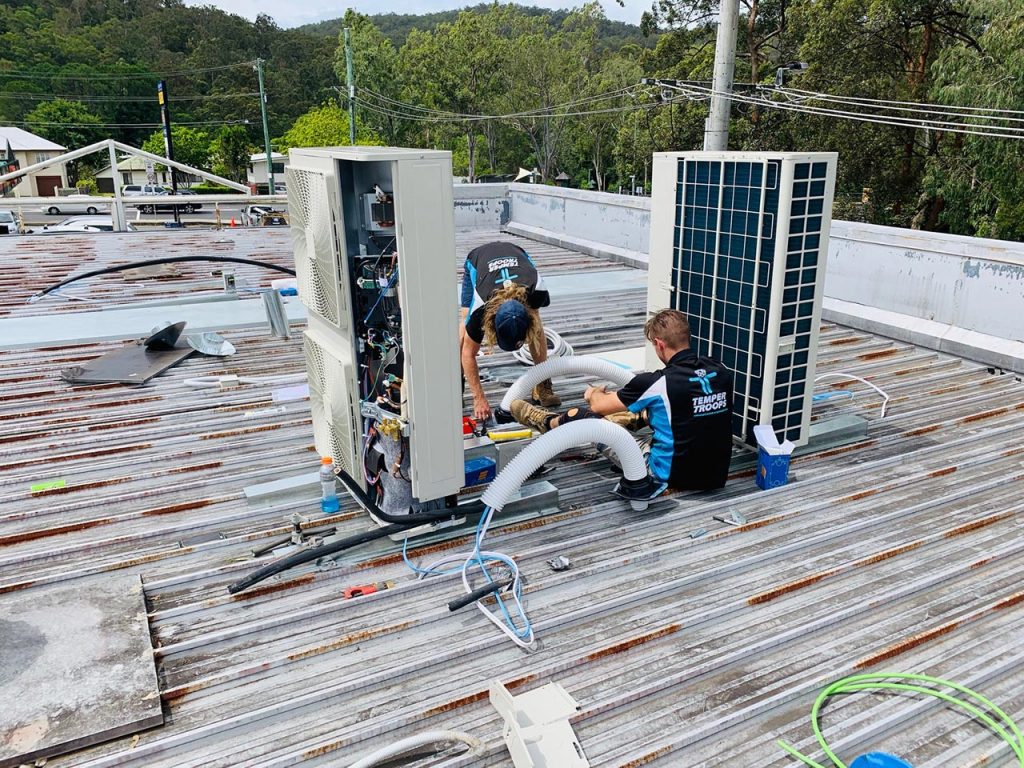 We focus on quality workmanship and efficient service so you can enjoy your air conditioning system for many years to come. Number 1 in Sunshine Coast Air Conditioning Services

We are authorized dealers on leading air conditioning brands & products, such as Daikin and MyAir, and will ALWAYS offer you the most competitive Air conditioner pricing.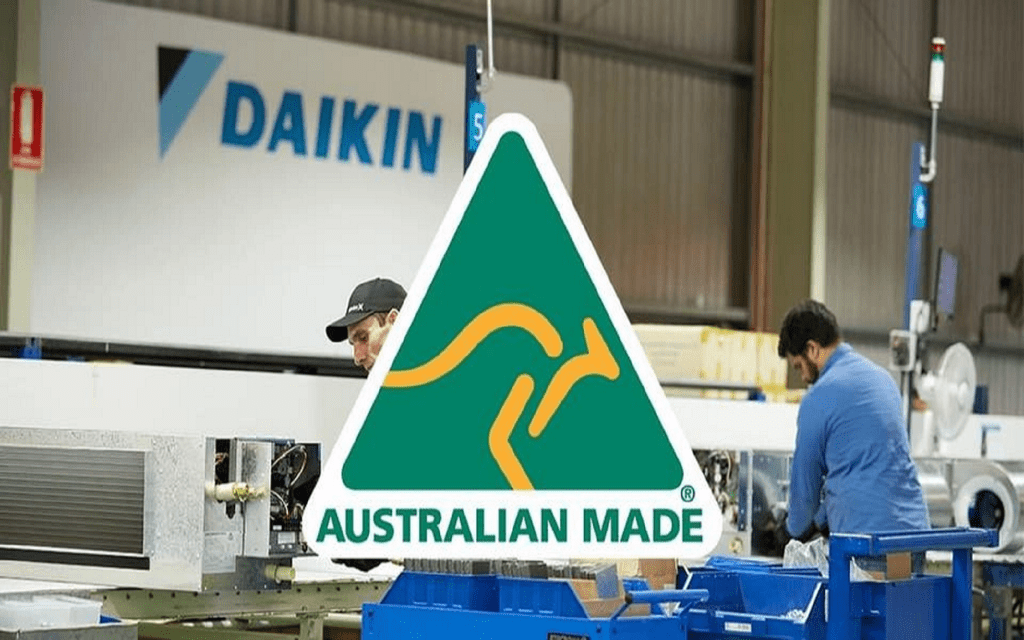 Looking for the number 1 Professional Sunshine Coast air conditioning Team?
For the best installation, repair, or maintenance service at an affordable cost, CALL Temper Troops.
Temper Troops' performs to the highest standards in the QLD area.
Temper Troops Air Conditioning Sunshine Coast is committed to giving you an amazing customer experience.
Our goal is complete customer satisfaction, before and after installation. Our many satisfied Sunshine Coast clients can testify to our quality customer service and workmanship.
If you need split or ducted system installed in a new property, our technicians can make a full assessment of your property and give you quality recommendations for a system that will best meet your needs.
We are the Sunshine Coast air conditioning specialists. Call us today for a free quote.
Temper Troops is an authorized dealer for MyAir and Daikin. We maintain our QBCC license, an electrical contractors license, and an Arctick license.
Don't let the heat overwhelm you when you can enjoy the comforts of a quality air conditioner. Contact the experienced air conditioning team at Temper Troops for all your cooling and heating needs today.
Temper Troops is located on the Sunshine Coast. Find us on Facebook and Google.
If you prefer a more personalized experience you can call us at (07) 3293 0005, or visit us in the office from Mon-Fri during business hours (9:00 – 16:00).
Finding our office on the Sunshine Coast is easy—just follow these simple directions and you'll be here in no time. Leaving the airport you can take Airport Drive to N shore Connection Rd. Follow Sunshine Motorway and Nicklin Way to Caloundra Road in Caloundra. Then keep staying on this road until you reach Bulcock Street. You'll find our office at number 4/61 Bulcock St.
Our friendly team is waiting to help you!