Air Conditioning Service Brisbane Northside
The use of air conditioners in Brisbane has risen dramatically in the last two decades. There's a good reason for this—a reliable air conditioner can make all the difference to your quality of life, particularly in the hot Qld summer. For those on Brisbane's north side, regular maintenance from a reputable air conditioning service brisbane northside provider is essential to keep your unit running efficiently.
Air conditioning is also perfect for the colder winter months, providing both heating and cooling services to improve the thermal comfort of your indoor space, regardless of the season.
When your air conditioner needs attention, don't just run a quick Google search on Brisbane air conditioning companies and hope for the best—call the experts at Temper Troops. Our professional and experienced team is the best in north Brisbane, Caboolture, Sunshine Coast and surrounding areas, with competitive prices and quality workmanship.
If you are a home or business owner in the area and want an affordable deal on every service, don't Google and leave it to chance. Call the Brisbane Northside air conditioning experts today.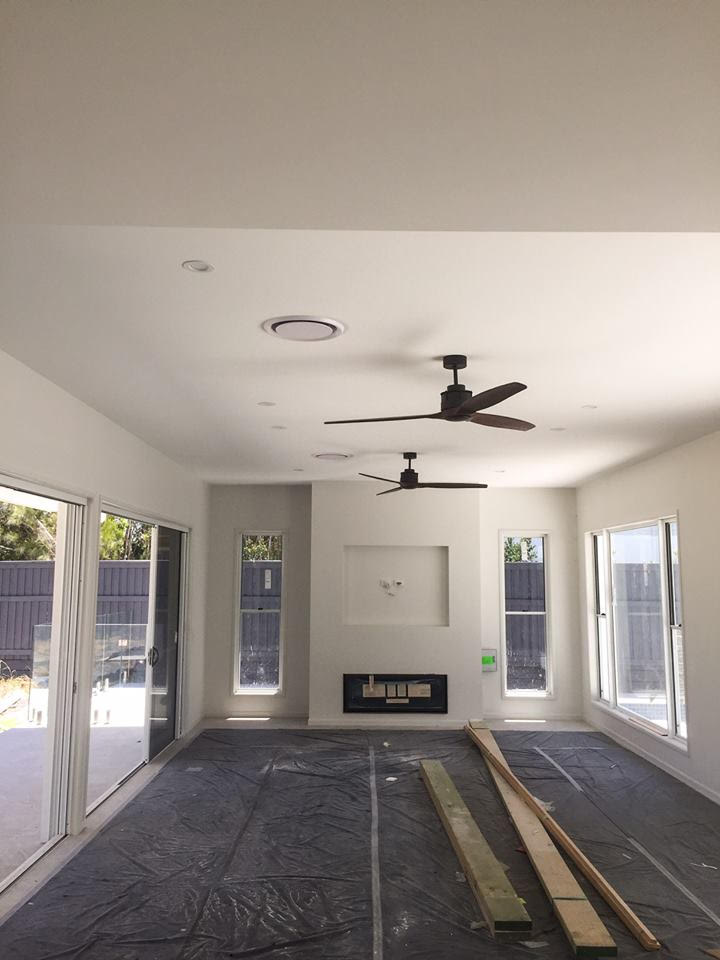 Several factors should be considered when deciding on the right air conditioner for you.
First, you'll need to know the size of the room you want to service—choosing an air conditioner with a capacity that's too high could result in the space becoming too cold or too hot. Inadequate dehumidification can also result in unnecessary wear and tear on your unit and lead to premature replacement or repairs, as well as increased energy costs.
Alternatively, choosing a model that is too low in capacity can lead to the AC running at maximum output, over-drying the air, and leading to additional wear and tear on your aircon. This may mean your unit will require more frequent servicing and repair.
When choosing an air conditioner size and model for your home or business, we recommend you choose one that is equal or has a slightly higher capacity than your room requires.
Other factors to consider are:
The type of room—is it an open or closed space?
The positioning and size of the windows. Larger windows will let in more heat than smaller ones.
Insulation of the room.
We can install, service, repair, and maintain your air conditioner. Call the Qld aircon service Brisbane specialists at Temper Troops today and receive a free quote for any of our services. We pride ourselves on being the Brisbane air conditioning experts.
Regardless of the type of air conditioner unit or the job that it's required to perform, air conditioning generally has a number of advantages—particularly when you consider the soaring temperatures we often experience in Brisbane.
Extreme conditions such as heat and humidity can impact your physical and mental wellbeing. Having proper air conditioning can help reduce heat and humidity and let you get on with your day-to-day life, in comfort.
Air conditioners can help reduce dehydration, as they lessen the likelihood of excessive sweating.
Proper air conditioning also improves the overall quality of air in the room.
Benefits of Air conditioning service Brisbane Northside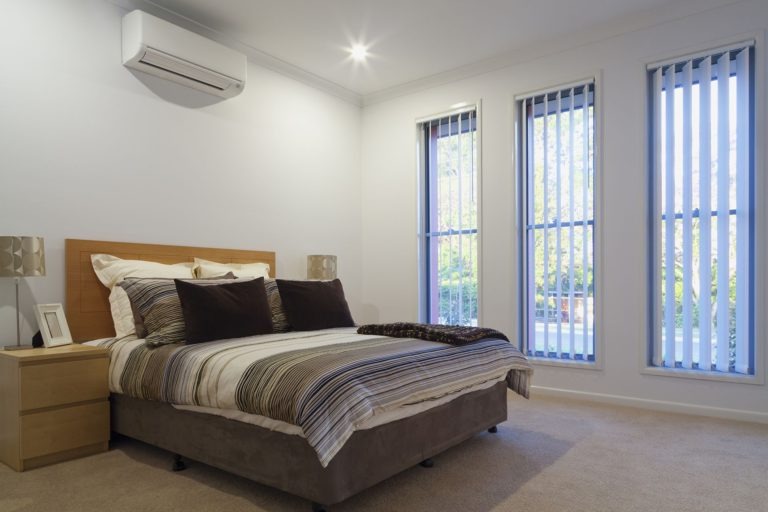 Air conditioning Service​ Brisbane
Whether you're looking to find a new air conditioner to install or you have a unit that needs a service, our friendly team of qualified technicians is here to help.
You don't have to wait for summer to deal with your air conditioning issues. Temper Troops is committed to making sure you have all your air conditioning needs covered, the whole year-round. We install, maintain, service, and repair all types of air conditioner units. We also offer second to none service, when it comes to ensuring your existing air conditioner runs at peak performance.
Need air? The Temper Troops team offers great service and expert advice to our customers in the North Brisbane area and surrounding area.
We specialize in:
Air Con Installation services such as Ducted system, Split system, and Mechanical installation ventilation.
Air Con Repair Services: We deliver an exceptional air conditioning repair service that can help prolong the life of your AC. Just like any appliance, your air conditioner can break down. If this happens, you can contact your local Brisbane air experts at Temper Troops for quick and efficient repairs.
Air Con maintenance services: We deliver outstanding preventative air conditioning maintenance Brisbane services that save you from costly repairs. Some of the renowned brands we work with are Mitsubishi Electric Air Conditioning system, Daikin, and Lennox.
Our bulk buying power means that we are able to deliver the highest quality air conditioners in the Brisbane North area at an affordable price.
Installation, Repairs, and Service
Brisbane Northside and Southside
At Temper Troops, we pride ourselves on providing a superior commercial and residential air conditioning service to Brisbane Northside and beyond.
We also offer minor services include cleaning filters in ducted air conditioners; fan coil head unit cleaning; inspecting ducted system electrical connections, refrigerant gas pressure, and airflow from the head unit; flushing drainlines, and removal/cleaning of fan barrel and head unit covers.

Same day Air conditioner installation in Brisbane, Northside
We are proud to say that we complete our installations in a day. We will dispatch one of our in-house air conditioning service installers to you, as soon as we receive and process your request. Our north Brisbane team will always ensure a quick and efficient installation and air conditioning servicing Brisbane process.
After installation, our team will thoroughly inspect your new air conditioning system to make sure it is running smoothly. Your satisfaction is of utmost importance to us. All our air conditioning tools are of an exceptional standard with high-quality installation, to match. We continuously strive to provide top-value services at affordable prices to each and every customer.
Quality Air Conditioning Brisbane Northside Installations: Professional Installation with a proven track record
Although it is essential to select a suitable air conditioner that suits your needs, the installation of that air conditioning system is just as important.
The installation process can hugely impact the effectiveness of your air conditioning. Your Temper Troops technician will ensure your system is installed correctly, and in the best location, to enhance efficiency and avoid unnecessary repairs.
To be on the safe side with your new air conditioner, call a professional with the experience and expertise required for system installations. Call the experts in air conditioning installation, at Temper Troops.
Why choose Temper Troops Aircon service Brisbane locals recommend?
When the temperature of your home or office becomes uncomfortable, an air conditioner is your most trusted appliance to restore comfort.  Temper Troops is ready to make sure that your A/C is in top condition for you to enjoy its full service.
Here are a few reasons Temper Troops should be your number one call for professional help in air conditioning installation and service and repairs:
Our prices are affordable.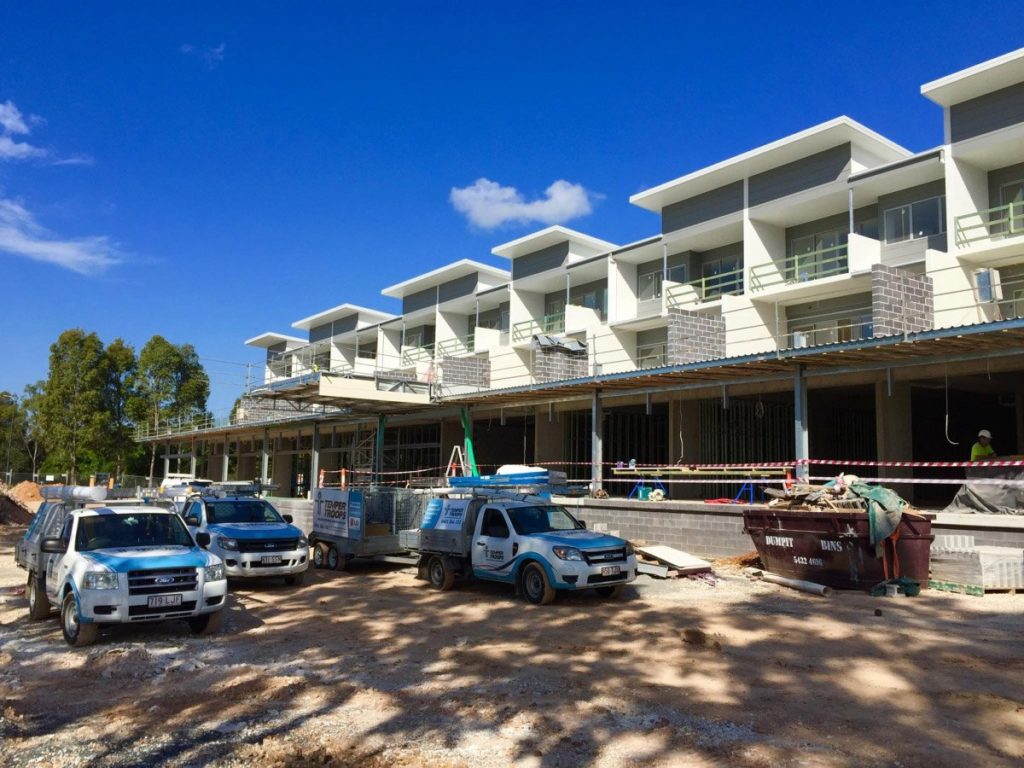 We specialize in both commercial and business spaces.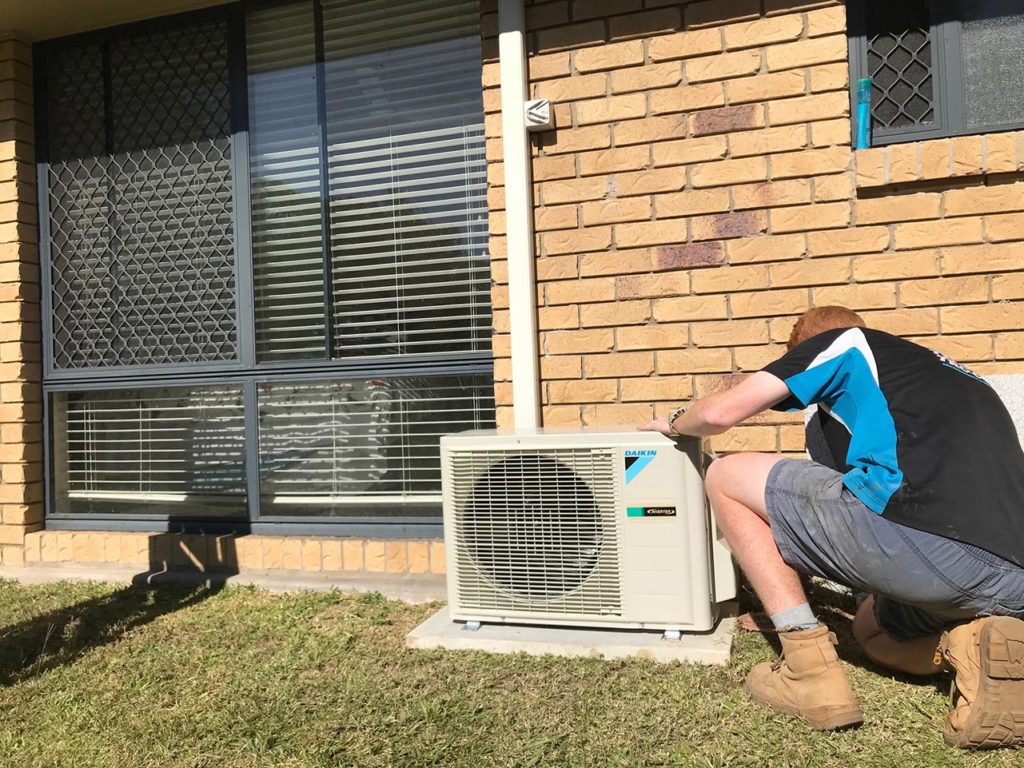 We are committed to providing quality workmanship and 100% customer satisfaction with the completed work.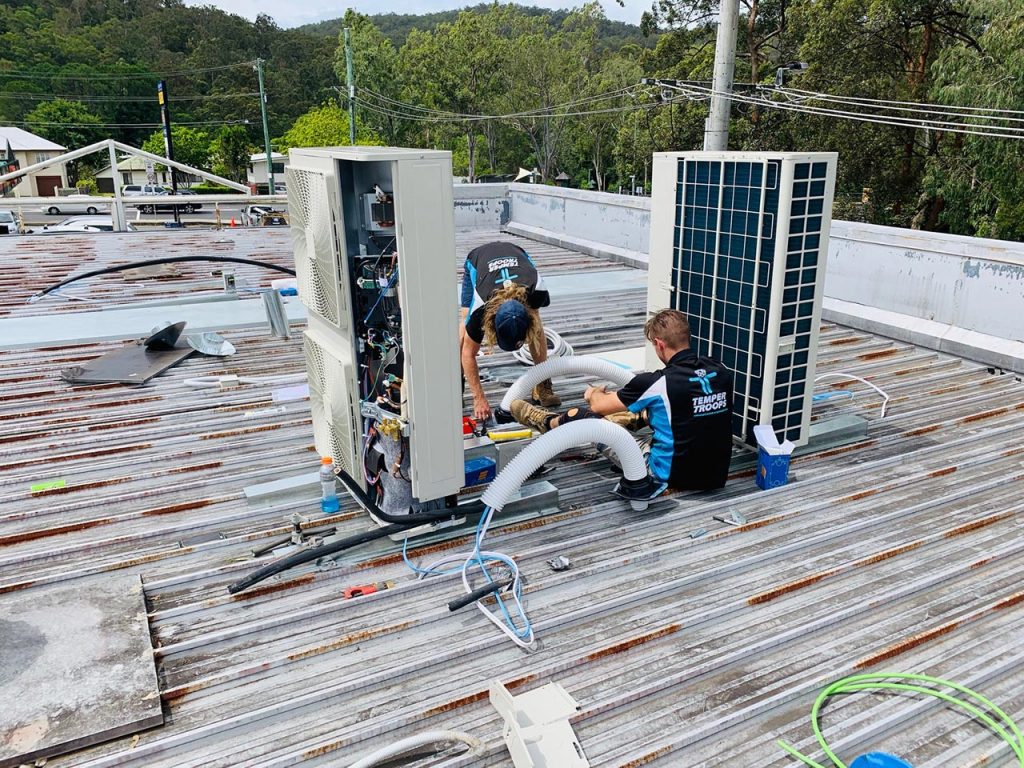 We work with trusted brands such as Daikin and source quality parts.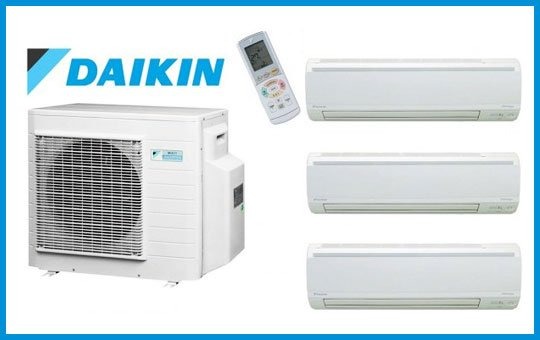 All our technicians are highly trained, qualified, and experienced.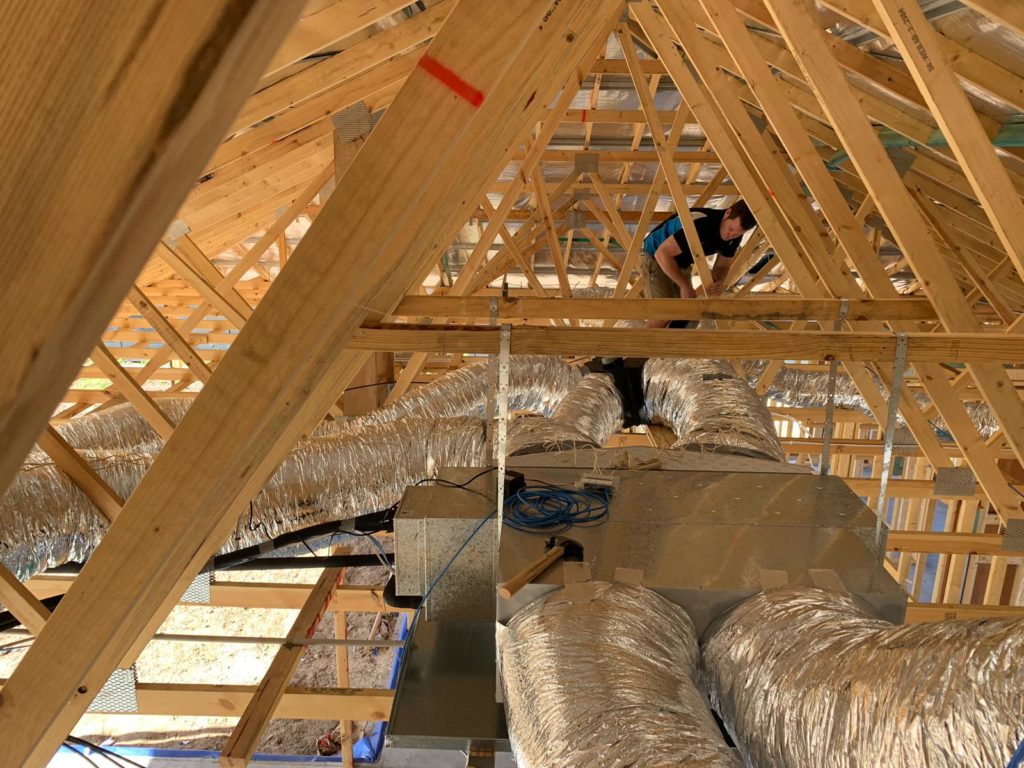 We provide services 24/7, 365 days a year, and are always ready to offer help even for additional services such as electrical repairs regarding air conditioners.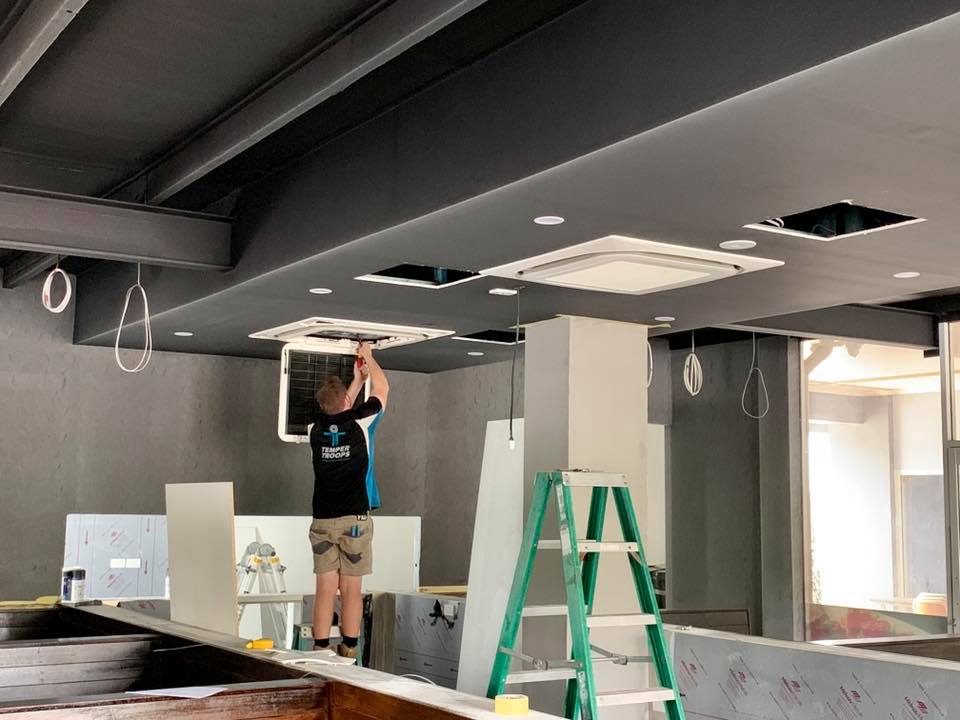 Our services cover Brisbane southside, Brisbane, Brisbane Northside, and Sunshine Coast.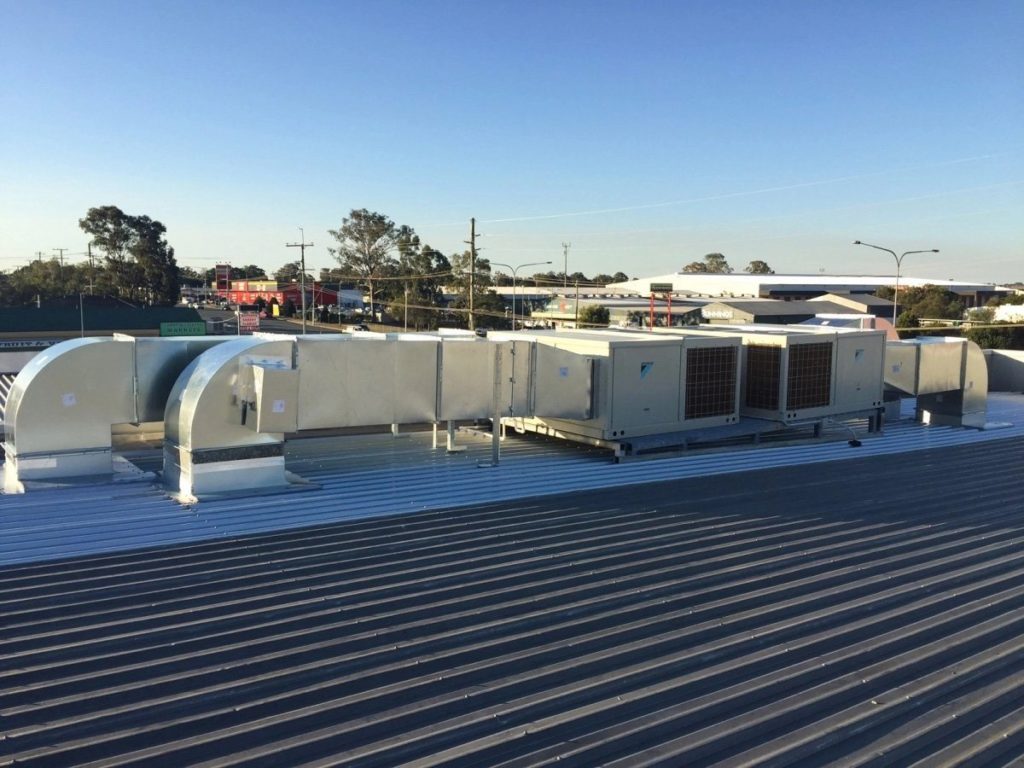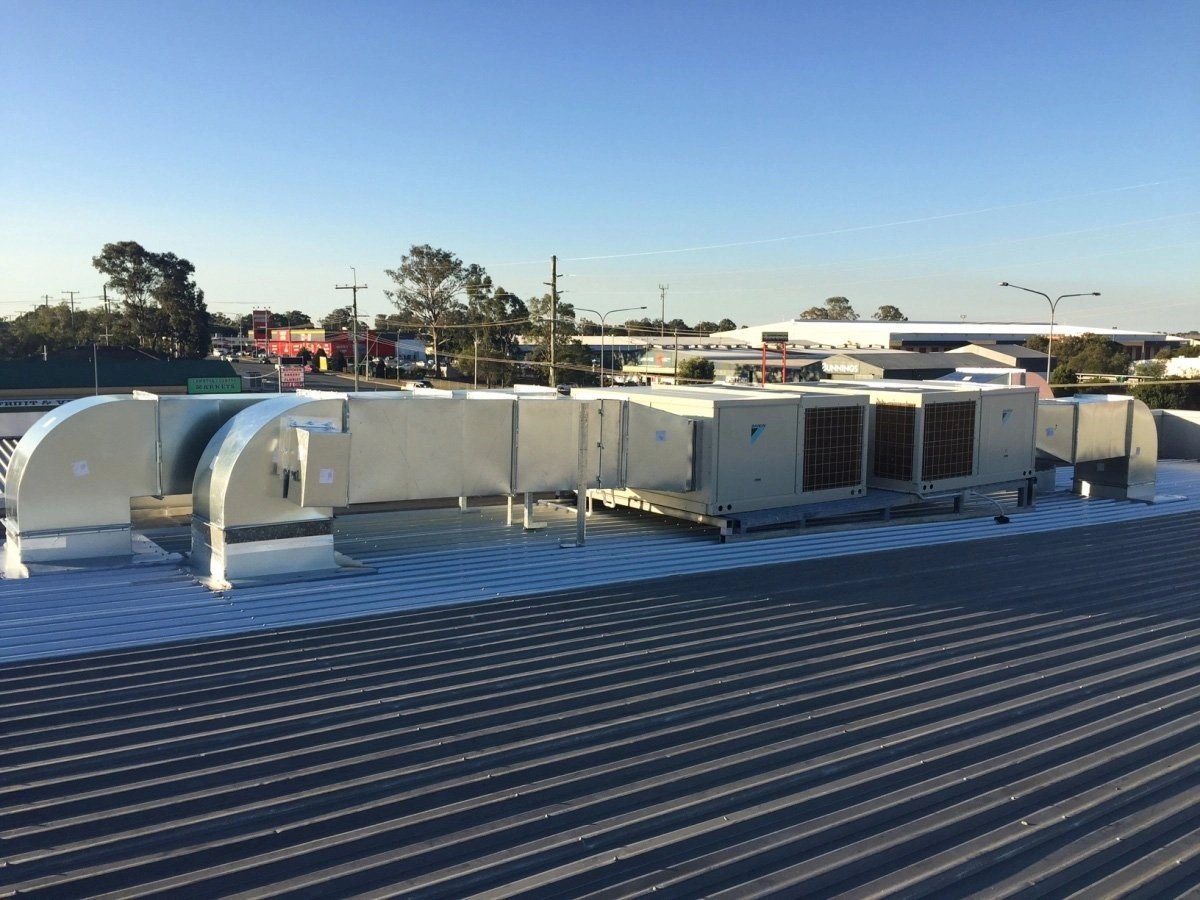 Types of Air Conditioners
There are various air conditioning units we can recommend for residential homes and commercial premises, in the north Brisbane area.
Depending on your lifestyle and cooling needs, one type of air conditioning unit might be better suited over another. We can help you find the perfect air con solution for your commercial or residential building, complete with professional installation and servicing.
Looking to find the right A/C for your Brisbane space? Below are a few air conditioning units that we highly recommend.
Split system and Multi-systems
The split system air conditioner and the multi-system are air conditioning systems that have both indoor and outdoor units, which are connected by pipes and filled with refrigerant gas. Split system air cons are generally quieter and more attractive than the window-mounted models, and do not require the ductwork of a ducted system.
Split system air can be used in a single room or alternatively, it can connect multiple rooms with one outdoor unit, which we highly recommend.
The price for a split system aircon will vary depending on the unit size, energy-efficiency rating, and how frequently it will be used. Choosing an economic model, seeking professional help for air conditioning installation, and utilizing energy-saving tips can help reduce the overall cost of your aircon.
Call Temper Troops, your Brisbane Northside air conditioning specialists, and receive a quote for a split system installation service.
Ducted air conditioning systems
Ducted air conditioning systems are designed to cool or heat your entire home.
Although, it can be more expensive when it comes to purchasing price, installation, and running and maintenance costs, ducted air conditioning is considered to be one of the best and most reliable systems on the market.
Call a specialist at the Brisbane North team at Temper Troops, for expert advice on installing and servicing your unit.
Call the Air conditioning service Brisbane Northside experts
For outstanding air conditioning service in Brisbane Northside, please do not hesitate to reach out to us at Temper Troop. Our customer care helpline is available on our website and via Google. Our trusted technicians are well acquainted with the North Brisbane and local area and are ready to help solve your air conditioning issues.
We work with trusted brands such as Daikin to ensure that we provide quality service for any maintenance or repairs that may be required. Whether it's a business or residential inquiry, we are confident that our fast, reliable and efficient air conditioning services will be of great relief to you.