Smart Air Conditioning: MyAir Air Conditioning Brisbane for Climate Control and Automation
Temper Troops are Brisbane and Sunshine Coast's air-conditioning installation specialists when it comes to MyAir.
We have extensive experience installing MyAir Smart and recommend it for air conditioning systems, for the ultimate in climate control.
MyAir is an innovative climate control system for ducted air-conditioners, allowing for complete control of individual room temperatures from your smartphone or tablet device. As regular installers for and dealers of MyAir Smart, we maintain a close relationship with Advantage Air, allowing us to provide competitive pricing on MyAir installations.
MyAir Smart Air Conditioning
MyAir is the ultimate solution for those who want complete control over their ducted air-conditioning. It includes individual sensors for each zone, ensuring that hotter rooms, such as west-facing rooms, get the right amount of airflow to keep a stabilized temperature. Individual room temperatures can be adjusted remotely, which not only increases energy efficiency but also allows you to turn the air-con on just before you get home on a hot Summers's day.

Set individual room temperatures
Make adjustments based on room activity
Set automatic temperatures
Remotely adjust temperatures from a smartphone or tablet device
We can pair MyAir with most modern ducted systems, or if you're opting for a new ducted installation, included in your quote will be one price inclusive of MyAir, and one without it.
In terms of both energy efficiency and creature comforts, the benefits far outweigh the additional cost of having MyAir installed into your new or existing air-conditioning unit.
Retro-fitting Smart Air Conditioning:
MyAir is compatible with most major air-conditioning units.
When performing a site inspection, we'll look at your existing unit and ducting infrastructure to establish whether a MyAir retro-fit installation would be compatible with your existing ducted system. Please give us a call to organize an inspection and quote for a MyAir installation on your existing unit.
Are the temperature sensors unable to adjust the airflow? Is the touchscreen unable to connect with the air conditioning system? Or maybe a unit to one of your 10 zones is faulty? Do you remember the last time your air conditioners received a thorough service?
Call the experts in My Air management system, Temper Troops.
With over a decade of experience under our belts and comprehensive training on MyAir's advanced technology, there is no issue that we cannot solve. We will conduct a thorough inspection of the adaptor units, condenser units, the ducting gates and also check the refrigerant levels.
Before we leave, we will ensure that the air each room receives is as regulated by the control panel. The comfort of your rooms is our highest priority.
Don't suffer Brisbane's high temperatures in silence. Call the experts at Temper Troops for your MyAir Solution today.
Brisbane service or repair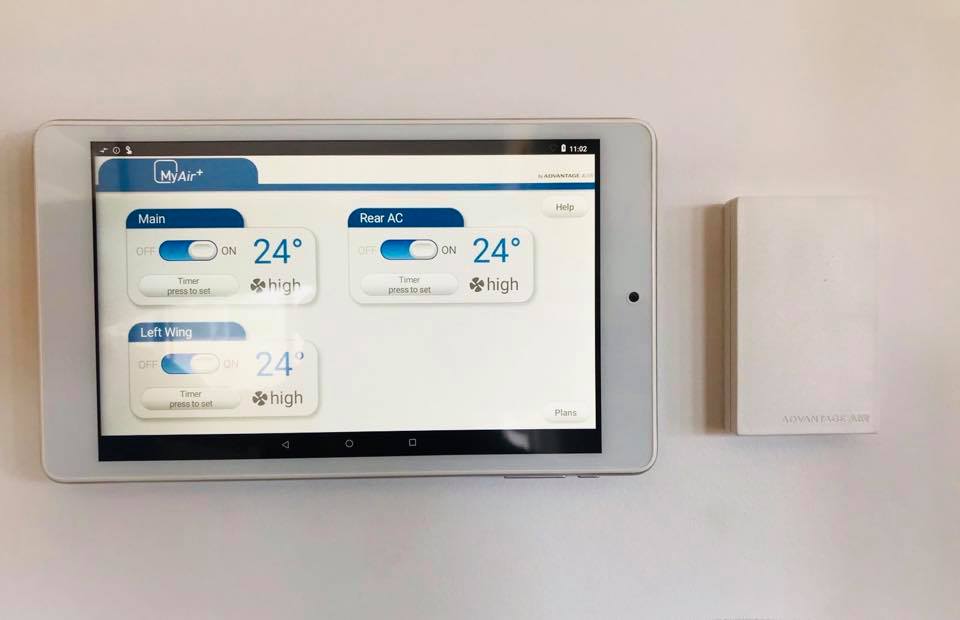 Why Choose Temper Troops?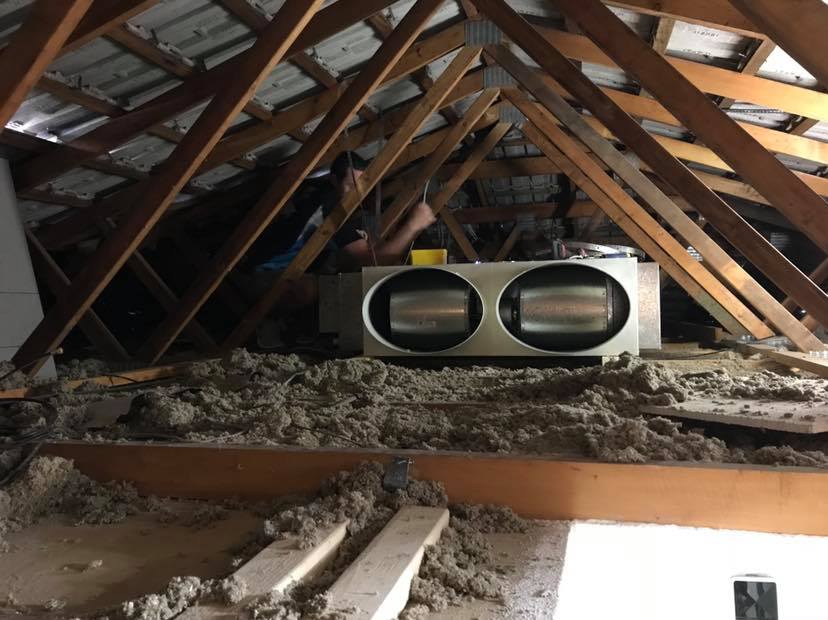 Quality service. We adhere to the highest standards when it comes to installation, service, or repair.

Experience. We have offered our reputable services all across Brisbane, the Gold Coast, and the wider Queensland region.

Skilled, licensed, and qualified technicians. At Temper Troops, we employ the best.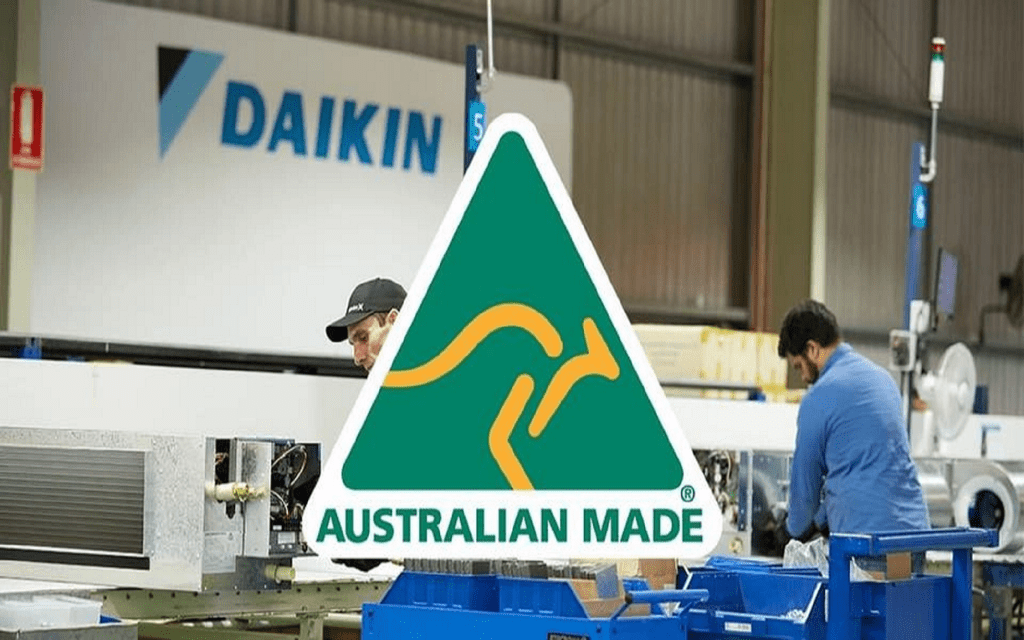 Knowledgeable in all the major brands; MyAir, Fujitsu, Mistubishi Electric, and Advantage Air. Our knowledge of these brands makes us the premier service company in the area.

There was a time when air conditioners were clunky, noisy mechanical units. But that is a thing of the past. With the smart systems from MyAir, you get a sleek and elegant unit that heats and cools your room at the touch of a button.
You don't have to worry if you misplace the wall unit's remote—just install the MyAir app onto your Android tablet or smartphone. From wherever you are in the house, you can easily control the airflow to any room.
MyAir Air conditioners are compatible with all major air conditioning brands such as Advantage Air, LG, Panasonic, and Daikin.
Its air conditioning management system integrates perfectly with these systems and guarantees you perfect temperature control in each room, thanks to Advantage Air's patented Exact Air Regulator Ear (EAR). As you control how much air each room gets, everyone in the house or office will be comfortable and can work efficiently.
A MyAir system comes with motion sensors in every room. This reduces energy usage thanks to the small automatic adjustments it makes. In an empty room, the motion sensors will adjust the temperature by a degree or two. Additional 20 minutes with nobody in the room will lead to a drop in energy usage by some 20%. That's how efficient the MyAir system is.
With the 8-inch colour touchscreen, you can control the entire system, even the compressor outside the home. The device can be connected to the internet. The 8-inch tablet can double as a central home hub…but don't forget to charge it like any other electrical device.
Contact us today to book one of our experienced MyAir air conditioning installers for a MyAir installation quote. We install MyAir systems from Brisbane, Caboolture to the Sunshine Coast. Call (07) 3293 0005.
MyAir air conditioning Brisbane
Summer in Brisbane means high temperatures and stifling humidity. Unfortunately, cooling an entire home or office can raise your electricity costs significantly. What you are in need of is an energy-efficient air conditioning system.
This is where MyAir comes in—its individual temperature control feature allows you to adjust the airflow in every room.
Call the expert team at Temper Troops to install efficient air conditioning solutions. We are happy to provide a free quote.
Ducted air conditioning systems
During the installation of your air conditioning system, your space will be divided into zones, a technology commonly referred to as Zoned Air Conditioning.
With different zones, the comfort of one person doesn't have to be compromised for another. With the use of the app installed on your android tablet or the touchscreen remote, cooling to everyone's individual needs can be done efficiently and optimally.
MyAir systems offer you the option to split your home or retail space into up to 10 zones. Using the MyAir app, airflow control to each zone can be precisely and independently managed. With a home MyAir system, there is no need for remotes of multiple control panels.
We deliver MyAir air conditioning Brisbane solutions all over Brisbane and the Gold Coast
Temper Troops can deliver a MyAir air conditioner to your home or business in Brisbane Northside— North Lakes, Chermside, Aspley, Everton Park, Albany Creek, Carseldine, and Brisbane North.
An air conditioner from MyAir is a step above the competition. Designed and built in Australia by Advantage air, the MyAir system is specifically designed to meet the demands of our extreme climate. Your air conditioner and temperature sensors will run optimally, providing each of the 10 zones with the ideal temperature. All that and more with the use of a touchscreen.
For the best installation or repair service or your air conditioning management system, call upon the experts at Temper Troops today.