Daikin air conditioning service Brisbane
From North Brisbane to the Gold Coast, the Daikin brand has established itself as an energy-efficient solution for both residents and businesses. For your cooling and heating needs, a Daikin air conditioner is the number one air conditioning solution. This premium brand uses the latest air conditioning technology in the market. With climate control, remote control, and a wide range of products, Daikin air conditioners are perfect for use in homes, businesses, industries, and warehouses.
Temper Troops is an authorized Daikin dealer come specialist in the Brisbane area. Servicing North Brisbane homes and local businesses, we are relied upon for professional installation solutions and repair services. Every Daikin air conditioning system that we service is carried out in accordance with the manufacturer's guidelines and specifications.
Are you located in the Gold Coast area or regional QLD? Don't worry. Our team of specialists is willing to come down to your house, office, or business and install or repair your Daikin air conditioning unit. Call us today and receive a free quote for any of our aircon unit services.
The premier Daikin service Brisbane Company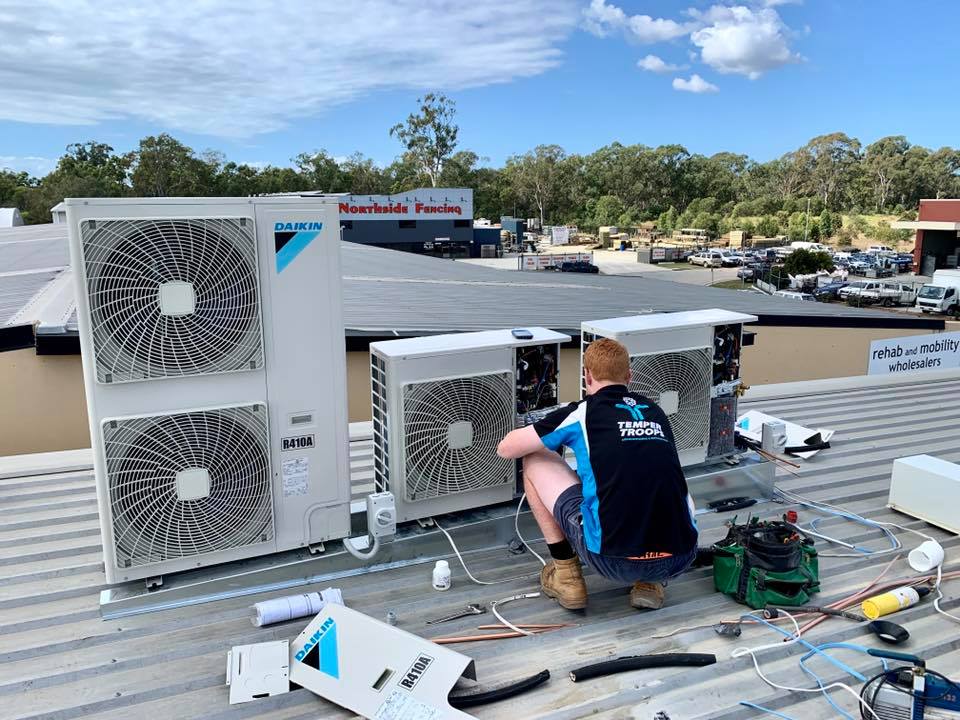 Each Daikin air conditioning unit is the result of billions of dollars spent on research and development. This makes the Daikin air conditioners quieter, more energy-efficient, and reliable to use. These air conditioners have been used for over 80 years in Brisbane, the Gold Coast, Qld, and beyond.
A number of Daikin products have been recognized as some of the most efficient star-rated devices in the market. This is what makes Daikin the market leader among other reputable brands.
However, this does not mean that a Daikin air conditioner is immune to all issues and faults or that it doesn't require maintenance. A number of factors could lead to unreliable cooling or heating from your Daikin air conditioning system. If this happens, you need to call upon the specialist technicians at Temper Troops.
Do you suspect a refrigerant leak on your Daikin aircon unit? Call the Daikin specialist team at Temper Troops for a correct diagnosis and quality services at an affordable price.
The right Daikin air conditioner for the right space
Our specialists have worked with all the established air conditioning brands.
Their experience will be critical in selecting an air conditioning unit that fits your needs and tastes. You can rely on the experts from Temper Troops. We can take care of the supply and installation of your air conditioning unit, as well as show you how to operate your new system.
Call us today and receive a free quote for any of our services.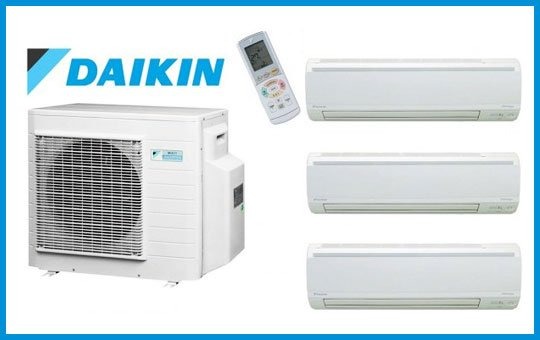 Daikin air conditioning repairs
Does your Daikin air conditioner require immediate repair?
Just because one unit of your Daikin air conditioning system is faulty doesn't mean you require a complete overhaul. Contact the number one air conditioning experts in North Brisbane at Temper Troops. Whether it's a ducted, split air, or cassette air conditioning system, our repairs team will identify the problem and offer the service you require.
Use Daikin specialists for correct diagnosis and reliable repairs service. Contact Temper Troops for a free quote today.
Looking for the best Daikin ducted air conditioning prices? Brisbane community relies on Temper Troops and you should too!
With Brisbane's climate, your air conditioning systems will be worked to the bone. You need a system that is dependable despite constant performance. Contact us with the requirements for your business or home. We will gladly recommend a quality product from Daikin that can meet your air conditioning needs.
Daikin Ducted air conditioning Brisbane
We have installed ducted air conditioning systems in homes, all across Brisbane. Their efficiency in cooling and heating makes Daikin's ducted systems the number one choice for residents. In addition to superior temperature control, a Daikin duct-work installation ensures that you maximize your interior space.
For reliable installation service of your ducted air con system, call upon the experts at Temper Troops.
Split system air conditioners
Daikin's split systems are available as both wall-mounted and floor units. They don't require any ductwork like the earlier mentioned system.
With a split system air conditioning system, you have the option of adding up to five indoor units to a single outdoor unit. With the multi-split system, Daikin offers you individual control of each room's settings.
For reliable Daikin air conditioning service Brisbane, call upon the experts at Temper Troops. We have the latest products in the North Brisbane market.
For professional installation, repair, and maintenance of your Daikin air conditioner
Servicing Brisbane Northside, North Lakes, Chermside, Aspley, Everton Park, Albany Creek, Carseldine, Brisbane North, Brisbane, Caboolture, and Sunshine Coast Temper Troops has established itself as a quality and professional air conditioning company.
Don't just rely on any local dealer for a Daikin air conditioning service Brisbane. You are in need of reliable, qualified technicians; known for their sound workmanship and attention to detail. The specialists at Temper Troops can install, repair and service your Daikin air conditioners and help keep your house or office cool in the Brisbane sub-tropical climate.
Contact us today and receive efficient solutions that will keep your air conditioners running all year long.