Temper Troops: Brisbane's #1 in Air Conditioning Brisbane Northside Locals Trust
Temper Troops Air Conditioning is your best choice in quality air conditioning systems, affordable prices, and honest customer service.
We are a family-owned and operated company based right here in North Brisbane, and provide air conditioning services to clients in areas from the Sunshine Coast to Caboolture and  Brisbane Southside and anywhere in between. We have a team of electrical experts, well trained and qualified in air conditioning installation, repair, and maintenance. As the premier air conditioning company, every job is completed to superior workmanship standards.
As a local air conditioning business, we recommend and install air conditioners that fit the lifestyle and budget of our clients. Our complete installation service is offered by our licensed and qualified technicians. In case of breakdown, simply request for our repairs and maintenance service. Temper Troops will arrive promptly at your house to provide you with quality air con service.
As the best air conditioning Brisbane Northside professionals, we solely specialize in air conditioning. Choose Temper Troops and be rest assured that you have chosen the experts in the industry.
Queensland boasts of having all-year-round good weather and Brisbane is no different. But the heat during the summer can get downright awful. Selecting and installing the right air conditioner for the office or home is essential but making an informed selection on an aircon can be difficult.
There are a number of brands and conflicting advice in the market, thanks to Google. If you want quality advice on air conditioners, request the service of the Brisbane Northside air conditioning experts at Temper Troops.
Worried about the cost of our quality aircon services? Don't be! All our services across the Brisbane area are charged at an affordable rate. This will be reflected in the free quote you'll receive upon inquiry.
Contact us today and get an affordable deal for quality, efficient installations.
The Ducted Air Conditioning Experts

Ducted air conditioners have established themselves as the efficient cooling system for multistoried homes and offices. Ducted aircon systems are typically installed on the roof; therefore no extra space is needed during the installation process. If a room has a small height, ducted air-conditioning systems are the ones to go for.
Ducted systems have a centralized unit connected by ducts to the indoor units of each room. Each indoor unit can be operated independently, adjusting the temperatures without disturbing that of adjoining rooms. This element of ducted air con systems is known as zone control. It is a practical feature that goes a great length to lowering electrical costs in your home.
If you are considering a ducted air conditioning installation, you might be won over by its ultra-quiet noise feature. This can be attributed partly to its efficient design and partly to its location. Occupants of a room will not be disturbed by any noise from these air conditioning units.
Are you in need of a ducted air conditioner installation?
Brisbane Northside and South Brisbane residents and businesses can attest to the quality service that Temper Troops offer. For a comprehensive supply, install, and maintenance service, contact the experienced team at Temper Troops and receive a quality job at the highest standards of workmanship. And did we mention our budget-friendly price?
As the name suggests, this type of air conditioner consists of two parts: a compressor, typically located on the outside, and the air unit inside. You should note that this type of air conditioner doesn't require a series of ductwork. It relies on piping, which is connected between the two units.
With advancements in air conditioning technology, split air cons have seen an improvement in specifications and features. Today, split systems come with wireless remote control and air purifying filters. Other smart features allow them to 'sense' the presence of people and automatically control temperatures accordingly.
Another advantage is the option for a multi-split air con system. Here, you can have multiple indoor spaces serviced by a single outdoor unit. You can cool a large space in a cost-effective way or cool two or more rooms at the same time.
Why google for Brisbane Northside air conditioning services and hope for the best?
Temper Troops are your best option when it comes to split system air technicians servicing Brisbane North, Caboolture, Burpengary, Beachmere, Morayfield, Deception Bay, Narangba, Rothwell, Dakabin, North Lakes, Kurwongbah, Mango Hill, and Sunshine Coast. Our team of professionals is trained and well equipped to offer prompt and quality service.
Contact the Brisbane aircon experts for a quote today. Installing your split system air conditioner has never been easier.
Split System Air Conditioning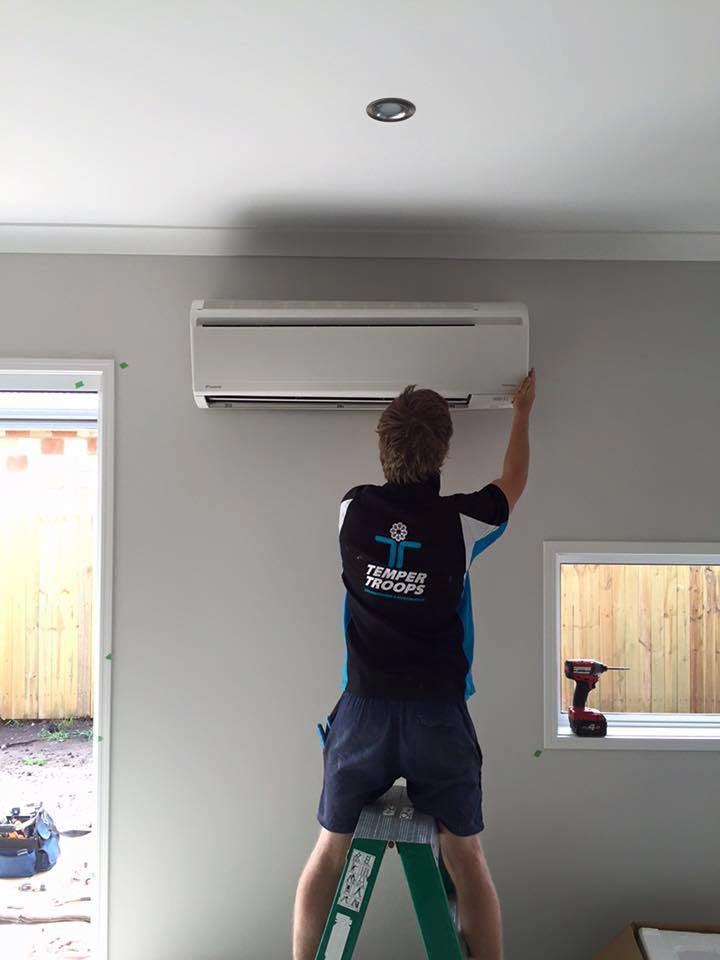 Commercial North & South Brisbane
We have built a strong reputation, providing quality and affordable air conditioning services to Brisbane Northside businesses. Temper Troops is at the forefront, when it comes to giving advice on the design and installations of commercial spaces. Be it a split system, cassette system, or ducted system, we can install, repair, and service any kind and any brand of air conditioning unit.
Retail facilities, gymnasiums, food processing facilities, and commercial office spaces are some of our previous clients in the area. Each install has been carried out according to the unique commercial air conditioning requirements of each business.
Servicing businesses in Brisbane from Zillmere, Draper, Yugar, Bunya, Nudgee, McDowall, Chermside West, Banyo, Chermside, Stafford Heights, Caboolture South, Bellmere, Upper Caboolture, Ningi, Sandstone Point, Elimbah, Fortitude Valley, Spring Hill, Petrie Terrace, Brisbane and Sunshine Coast, the professional team at Temper Troops are the air conditioning installation and repair experts to call. 
Contact us today and receive a free quote at an affordable price.
Why North Brisbane residents are relying on Temper Troops?
Professional team of electricians. We are well represented on the ground by our experienced and licensed QBCC technicians. You can have peace of mind knowing your home or business is in good hands.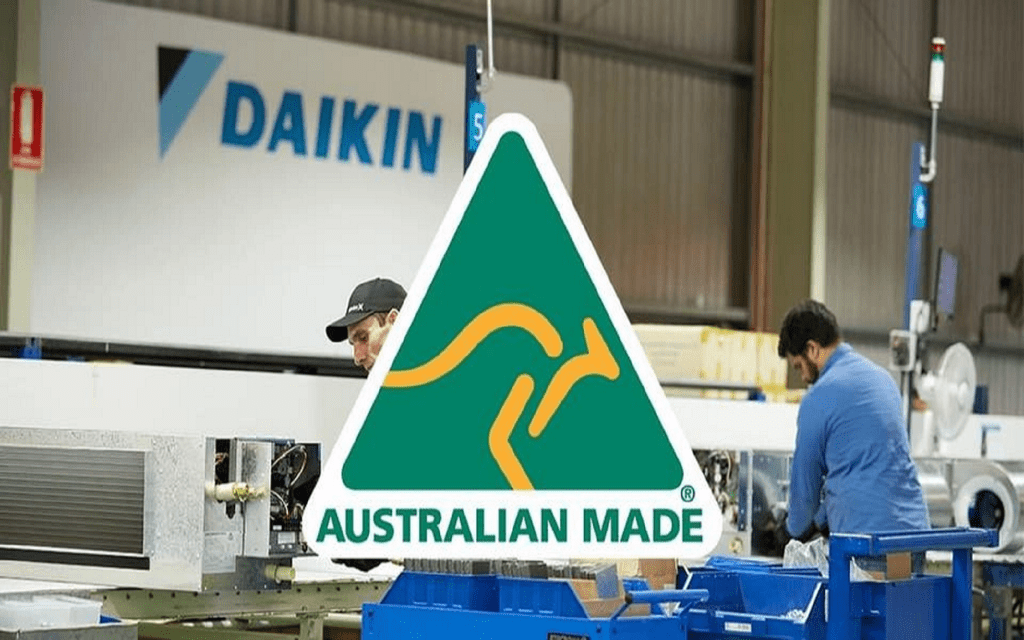 Trusted brands. We are authorized dealers of trusted brands like Daikin, Advantage Air, and MyAir.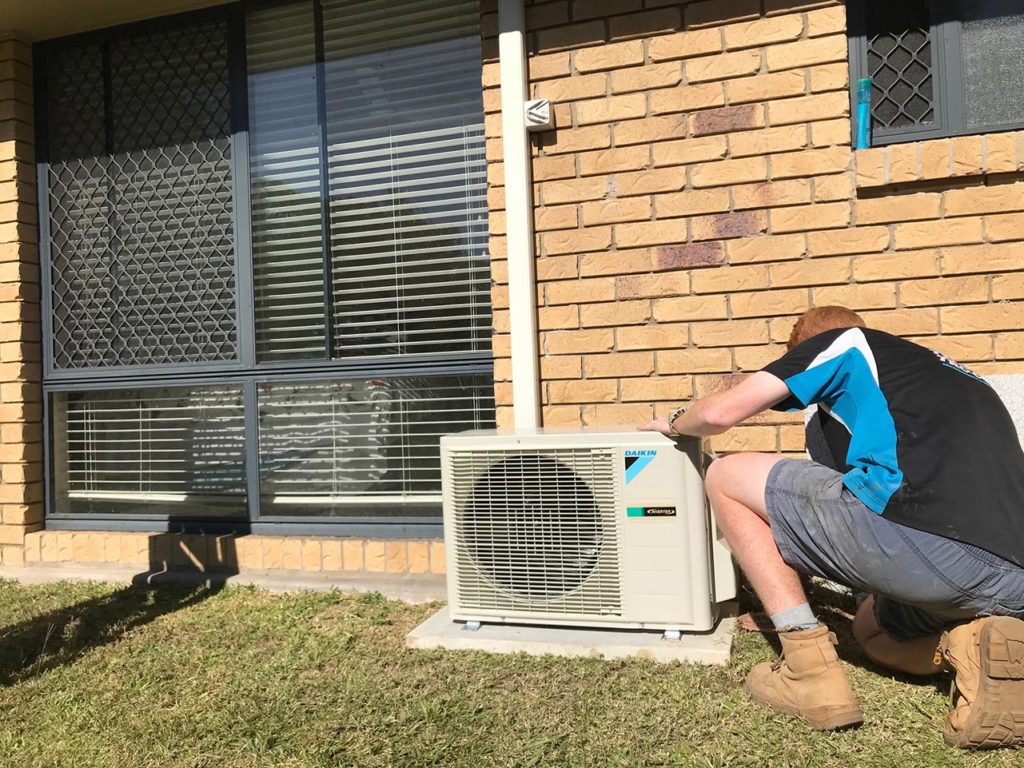 Affordable pricing. As part of the Brisbane business community, we believe in offering value for our services and products. That's why we charge our services competitively.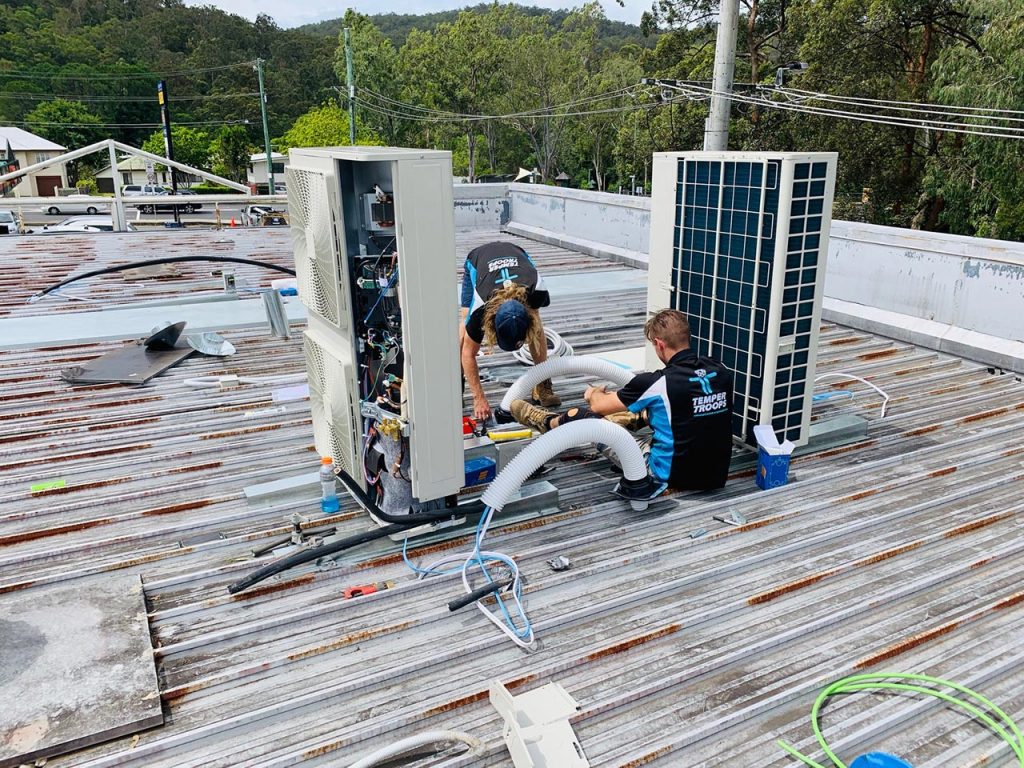 Customized solution. We know that every customer's air conditioning needs are unique. You can expect a tailor-made aircon service that is just right for your North Brisbane or Caboolture home or business.

Fully insured tradesman. There is always the possibility of risks during any air conditioning repair or installation. To take the stress off the customer, all our technicians are fully insured and trained to ensure peace of mind.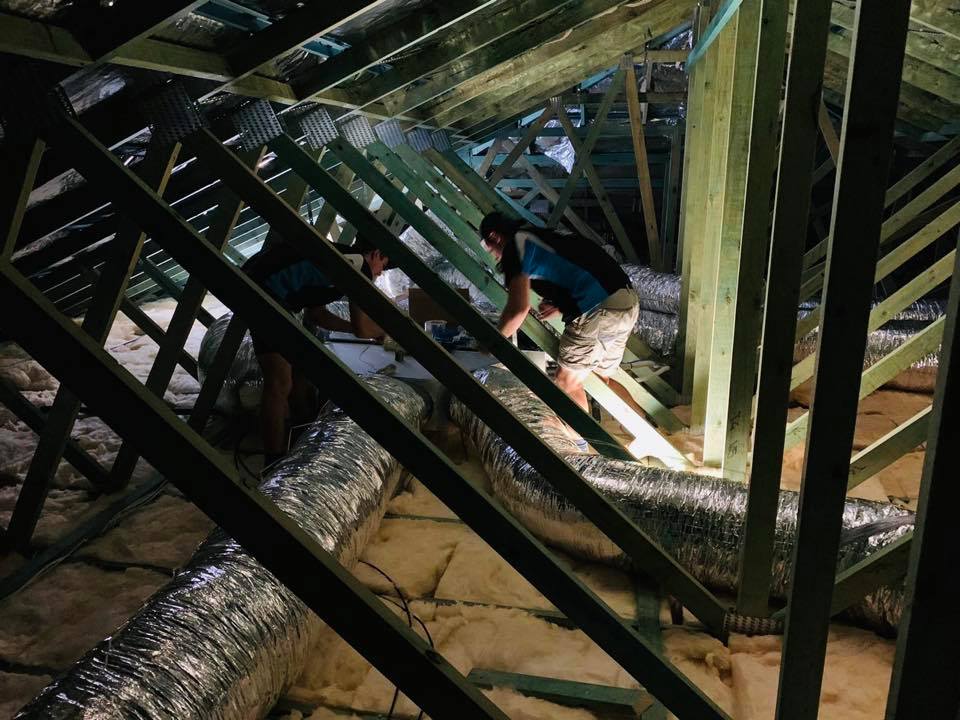 Quick Response. Our Temper Troops North Brisbane team is available when you need it most. They are ready and geared to head out when they get the call.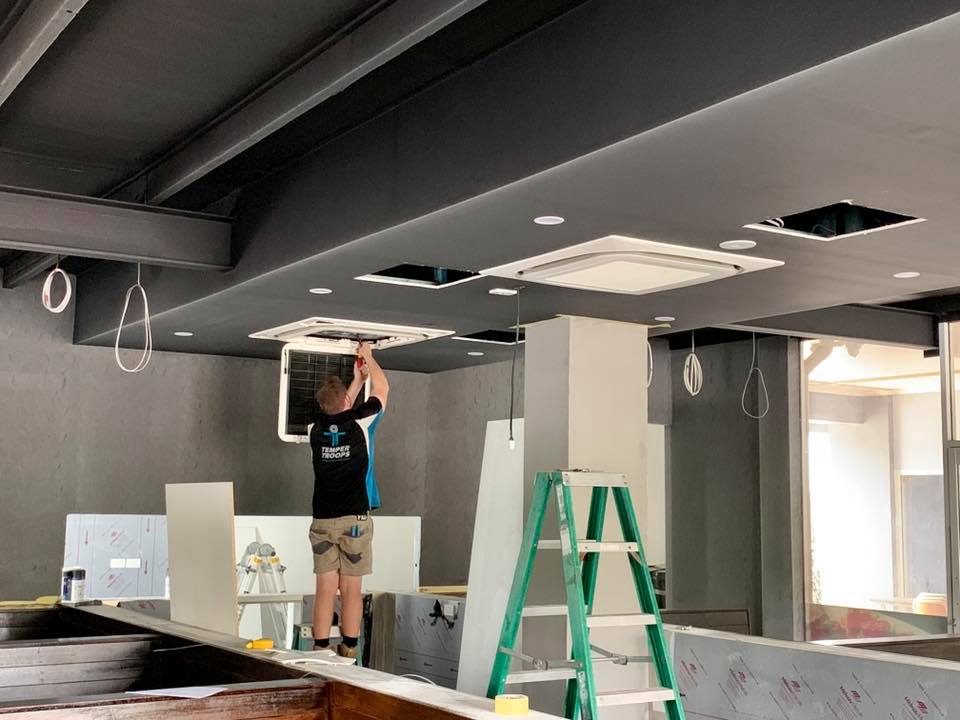 Air conditioners maintenance
What each North Brisbane air conditioning customer should know is the importance of maintenance after installation of their new Mitsubishi electric or Daikin air conditioning unit. After installation, the filter of your air conditioners must be regularly cleaned and cleared of all forms of contaminants.
If your air conditioning is poorly maintained, harmful bacteria and mold will exist within the unit. The air your family and colleagues breathe in will be heavily contaminated.
Although it's easy to google how to clean the filters of their ducted air conditioning unit, there is much more that is required for a proper service. For your air conditioners to run efficiently, the cooling coils, condensing unit and drip trays of your installed unit need to be checked.
A serviced air conditioner saves a household and business in terms of electrical costs. Your aircon systems will easily heat or cool thanks to new filters. Regular maintenance also reduces the chances of air conditioning repairs or a complete replacement of your aircon unit. It is recommended that your air conditioners be serviced every 3 to 6 months depending on the frequency of use.
For your North Brisbane house, we can offer you an inexpensive air conditioning service deal. Call us today and receive a free quote.
For all your air conditioning Brisbane North residential and commercial needs
Do you have a split air conditioner in need of a repair or maintenance service? Or do you require an installation service? No need to google for 'air conditioning Brisbane Northside services near me'. The best Brisbane air conditioning repairs, maintenance, and installations are done by the local, professional team at Temper Troops.
Whether it is a commercial or residential job, call us today and we can get your air conditioners up and running in no time. We'll give you a complete quote, detailing every service that you need.