Retrofit Ducted Air Conditioning Installation and Retro-fitting
Temper Troops are the ducted air conditioning installation specialists in Brisbane, Caboolture and the Sunshine Coast. We specialize in installing ducted systems into existing homes and are staffed by a team of qualified electricians and refrigeration mechanics, allowing us to complete your installation entirely in-house.
Having ducted air conditioning retrofitted into your house is a fantastic way to increase the value of your home while improving your comfort of living. Please give us a call for a ducted air-conditioning installation quote and receive a free quote.
Why you need Temper Troops'
Retrofit Ducted air conditioning service?
You will be surprised at how much control an air conditioner offers today—this is no longer the age of button zone controllers. We now have smart wall-mounted touchscreen tablets and smartphone apps to control our air conditioners. Each indoor unit is fitted perfectly into the ceiling space or beneath the floor, leaving little or no footprint on your space.
With reverse cycle air conditioning systems, you can have an all-round energy-efficient device. When it comes to heating or cooling, this the air con system that you should consider. They come with thermostats and advanced inverter technology that will keep your energy running costs down.
A retrofit ducted air conditioning service from Temper Troops guarantees to reduce the noise from your air conditioner unit. Outdoor units have often been the source of nasty conflicts between neighbors. Smart inverter technology has reduced the noise from clunky units enabling Brisbane and Sunshine Coast locals to cool their homes without disrupting the peace.
For all your heating or cooling needs at an affordable cost, call the experts in retrofit ducted air conditioning services, right here at Temper Troops.
Can I Retrofit Ducted Air-Con?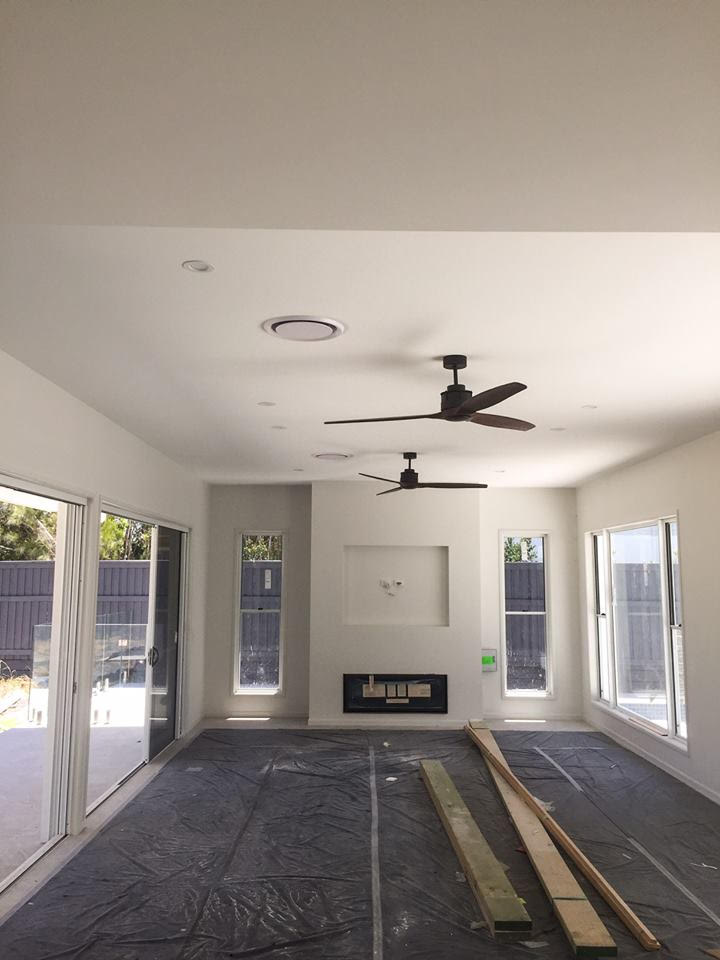 Whether you can retrofit ducted air-con into your existing home depends on a number of factors. We will always perform an on-site inspection to draft up some ideas of how we'll run the ducting through the house. Ducting can become difficult in houses with more than one level or tighter spaces in the roof, but we can almost always find an efficient solution if there's somewhere to hide the ducting.
A home is where you go to hide from the disruptions and chaos of society. We understand that, so your peace and comfort are important to us. At Temper Troops, we have a dedicated team with the precision, skill, and experience to offer efficient retrofit services.
We will have your new air con unit installed in your home with minimal disruption. You can rest assured, that when you call the experts at Temper Troops, that your home is in the safest hands. We are specialists when it comes to ducted systems.
Have you decided on a retrofit system? Installing a new air conditioning system requires a reputable technician. Our team of experts is renowned for quality workmanship and we can advise on all the required permits and compliances.
Contact Brisbane's premier service company, here at Temper Troops. Our team will advise on the best system solution for your house; whether ducted, split systems, or cassette air conditioning.
If you've got an existing multi split system air conditioning set up, we can safely remove and dispose of them for you. Give our customer care centre a call and receive a free quote.
Here at temper Troops, we prefer to use Daikin air conditioning systems for all our ducted installations and recommend their models to all our customers.
Daikin has a proven track record for durability and energy efficiency, and very well known throughout Australia because their systems are specifically designed to handle the intense heat we experience. All the Daikin systems we install come with a five-year warranty on parts and labour.
No two homes are the same. A Daikin ducted air conditioning system should meet all the requirements of your home and provide an optimal cooling or heating solution for your family. Before you choose your new ducted system, consult with our team of ducted air conditioning systems experts, here at Temper Troops.
Due to the amount of Daikin products we install, we are certified Daikin dealers and can offer competitive pricing on their systems to further incentivize our customers to choose a high-quality, durable product. That said, we are more than happy to install a particular brand or model that you might request.
Do you need to get a new system installed? Contact the air con professionals to get a quote for free.
Install Daikin Ducted Air Conditioning

The Benefits of Ducted vs. Split System Air-Conditioners
Generally, most people who choose to install ducted air conditioning systems find that they could never go back to a regular wall-mounted split system after experiencing the benefits of ducted air-conditioners.
Ducted systems allow you to have:
Unobtrusive ceiling registers
A traditional air conditioner was not a pretty appliance. It had a number of unsightly features that detracted from the design and allure of an indoor space. Newer technology has allowed for sleek and attractive designs that can fit into the existing walls and ceiling space, with an outdoor unit that can easily be hidden. A retrofit service allows you to enjoy the cool comfort of air conditioning without compromising on aesthetics.


When you install a ducted air conditioning system, you might expect an increase in energy running costs. But that's not actually the case. With the use of smart inverter-driven compressors, power consumption for the average air conditioning unit has been reduced drastically.
Individually controlled 'zones'
Ducted systems offer room-by-room zone control. As a homeowner, you have control over how and which room to cool or heat. This ensures that each zone can be at the ideal temperature for the occupant.


A common quality associated with older houses is that sense of peaceful charm. This is often disrupted when a clunky air conditioner is turned on to cool or heat up the rooms within. With the new inverter technology, air conditioners have a whisper operation, muffling the movement of the air and minimising noise.
By having ducted air con installed in place of the typical split system, you will be able to remove unsightly internal and external units, which is a huge benefit if you've got a large house that relies on multiple units. Furthermore, individual rooms can have their own temperature, catering to the individual preferences of each household member. You'll also notice that there's a significant noise reduction by not having the system situated directly in front of you.
Of course, not all houses require ducted air conditioning. For small houses and units that only require one main area to be air-conditioned, the cost advantage of split-system air conditioners will likely outweigh a ducted system. In these cases, we recommend one of our high-quality brands, such as a Daikin split system.
Get in touch to discuss having ducted air conditioning installed in your new or existing home.
Call Temper Troops on (07) 3293 0005
The Brisbane experts for Retrofit Ducted Air Conditioning service
Although an older style Brisbane residence has character and charm, it might not offer much comfort when it comes to heating and cooling. Perhaps you want to experience the same air conditioning efficiency, associated with the newer air con models, but you don't want to damage your home's ceiling, floor, and wall finishes. There is a way to navigate that issue and still enjoy zone temperature control. Our professional team can help you find the perfect air con solution.
Brisbane Northside, North Lakes, Chermside, Aspley, Everton Park, Albany Creek, Carseldine, and Brisbane North? Enjoy the benefits of retrofit ducted air conditioning to every room of your house thanks to the team at Temper Troops. We guarantee that every service that we offer is of the best quality and meets the highest standards of workmanship.
Contact us today for a new ducted system cooling solution and get a quote for free.