Your search has come to an end!
The Professionals in Ducted Air Conditioning Brisbane locals rely on
Do you want your whole home to be a comfort zone, then Ducted Air Conditioning systems are your all-in-one climate control solution. All it takes is a discreetly positioned outdoor unit and an indoor unit concealed in either your ceiling or under your floor, with flexible ducting distributing conditioned air via vents throughout your home.
Ducted air conditioning systems have become essential in most internal spaces. In Brisbane, Temper Troops install various ducted air conditioning unit in residential and commercial spaces.
We are able to provide ducted aircon that will service conditioned air to both commercial clients and other clients.
Temper Troops are the experts to call upon
for all your ducted air conditioning Brisbane needs.
Get in touch and receive a free quote.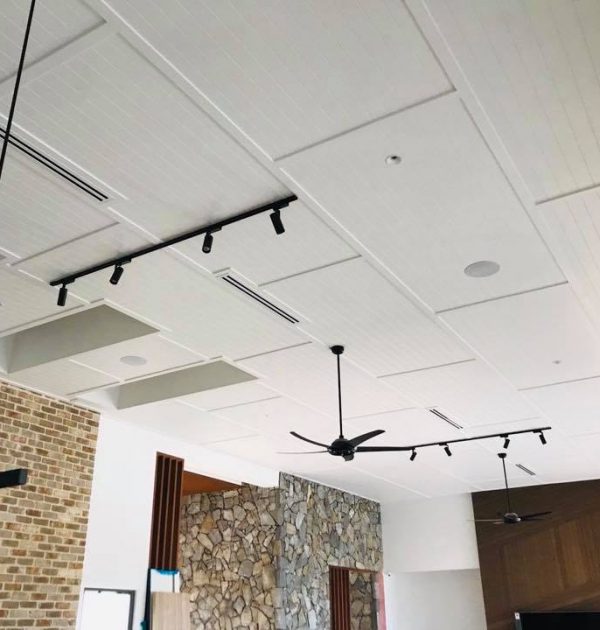 Ducted Air Conditioning Installation
The pure pleasure of having silent filtered air pumped into all rooms in your home or office is surely something you deserve. Not only does it provide an even flow of air into rooms you select it does so with energy efficiency unheard of only a few short years ago.
Our company provides has several air conditioning specialists who are well knowledgeable in air conditioning brands and are able to provide the best air conditioner service. We provide ducted heating and air conditioning in Brisbane and Gold Coast as well as other areas.
Get an installation quote for the latest brands in Air conditioning Brisbane.
Ducted Air Conditioning Systems from Brisbane Air
When deciding on a ducted air conditioning system it is important to consider several important details. Most of these factors will be considered by the experts who install ducted air conditioning in your property.
In this article, we will look at several types of ducted air con giving you information on the cooling solutions in each, energy-efficient air cons for various spaces among others.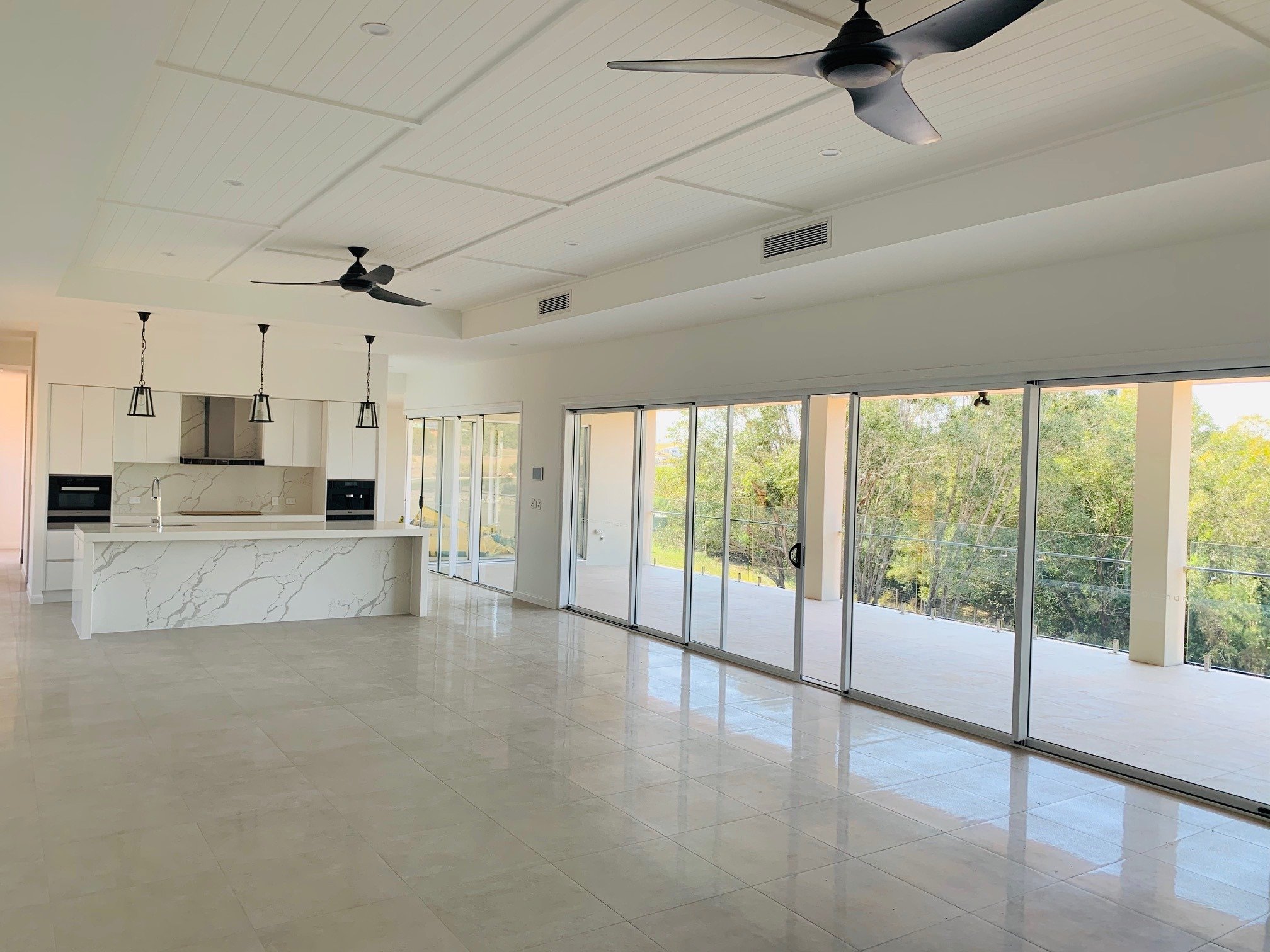 Need a comprehensive maintenance plan for your home?
Temper Troops are the experts to call in.
Benefits of Using Ducted Air Conditioners
When considering your needs for air conditioning, our experience – which stretches to more than 30 years – is that ducted air conditioning offers greater benefits to the user than other air conditioning solutions. There is a system to suit all needs, and reverse cycle air conditioning systems have the advantage of heating as well as cooling: comfortable in the summer, cozy in the winter. Benefits of ducted air conditioning include:
Flexibility of choice for your unique circumstances
Lower running costs offered from a wide choice of high energy rated units
Zoning allows you to heat or cool different areas at different times, Many systems are enabled with programmable settings such as evaporative cooling, reducing energy waste, and further reducing the costs of running air conditioning
Latest technology units and ducting mean that energy efficiency is increased, with latent temperatures controlled at the touch of a button
Refrigerated ducted air conditioning reduces internal humidity, and circulates purified air several times every minute during the summer months
With a wide range of units and components available, the overall system can be customized to individual taste and requirements, enhancing aesthetic qualities and further adding to the value of your home
Systems can now be controlled through wi-fi applications, allowing full control of the system remotely, from a smartphone or iPad.
Ducted air conditioning is ideally suited to both new and existing homes, as first-time installations or replacement of existing air conditioning systems
You get the choice to install a Ducted System into a new home or it can be tailored to suit your existing one.
You'll hardly know it's there – only the controller and grilles are visible inside your home and with all its technology hidden away, it's the quietest of all air conditioning solutions.
Ducted air conditioning will not only enhance your lifestyle, but it will also significantly add to the value of your home.
Last, but not least, you enjoy the flexibility to heat or cool every room and can zone control your home to maximize energy efficiency.
While most people think of air conditioning seen from the outside, however, that is only one of the components of the ducted air conditioning.
How the air conditioning works is by the passage of air through the pipes located on the roof space or ceiling space. Some of the air conditioners have are usually insulated to help with energy efficiency.
Multiple rooms are zoned separately to help gain control of the multiple units. There is the provision of a control panel that gives complete control of the air conditioning system.
This helps add to the energy efficiency. The air conditioning system also has air filters that purify circulating air. This air is then used to cool multiple rooms altogether.
The installation services from Temper Troops vary from one ducted air conditioning Brisbane home to another, depending on the space. However, there are several basics that apply to both an indoor unit and an outdoor unit in regard to the ducted air conditioning system.
Fill in the online form below and get feedback from our expert team.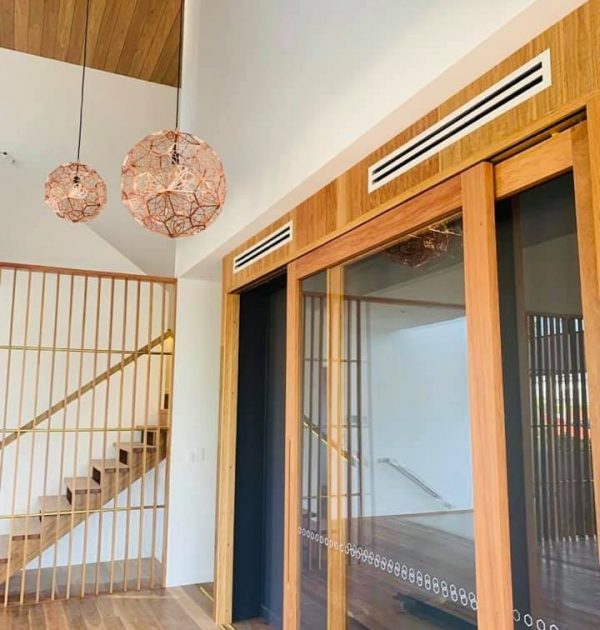 What is a Ducted Air Conditioner Suitable For?
Ducted air conditioning is used to provide cool air all year round in space. However, these air conditioners require regular maintenance for them to function effectively. We have various air conditioning services all around Brisbane and even on Gold Coast.
These ducted air conditioning are suited in spaces that accommodate a number of people such as halls or offices spaces. There are also family cool systems that are installed for residential units.
There is a variety of ducted air conditioning that range from multiple designs and components. Before deciding on a ducted air conditioner installation especially when installing a new air conditioning system make sure to discuss your housing plans in order to find the best ducted air conditioner for your unit.
Ducted Air conditioning solutions
Ducted systems are ideal for cooling an entire house or when you want to achieve a discreet look but also with ultimate comfort.
Brisbane Ducted Air Conditioning Installation Pros
Zoning has become a critical part of the ducted design, this is where we have seen the advancements that not only enhance the selected ducted system but large coloured screens and simple connections to smartphones are enhancing your experience as the user.
We are trusted in servicing Brisbane area in providing excellent service for all ducted air conditioning system . A ducted system is more than simply installing a single system on the wall, the design of the system is critical in extracting maximum performance whilst maintaining that lower costs.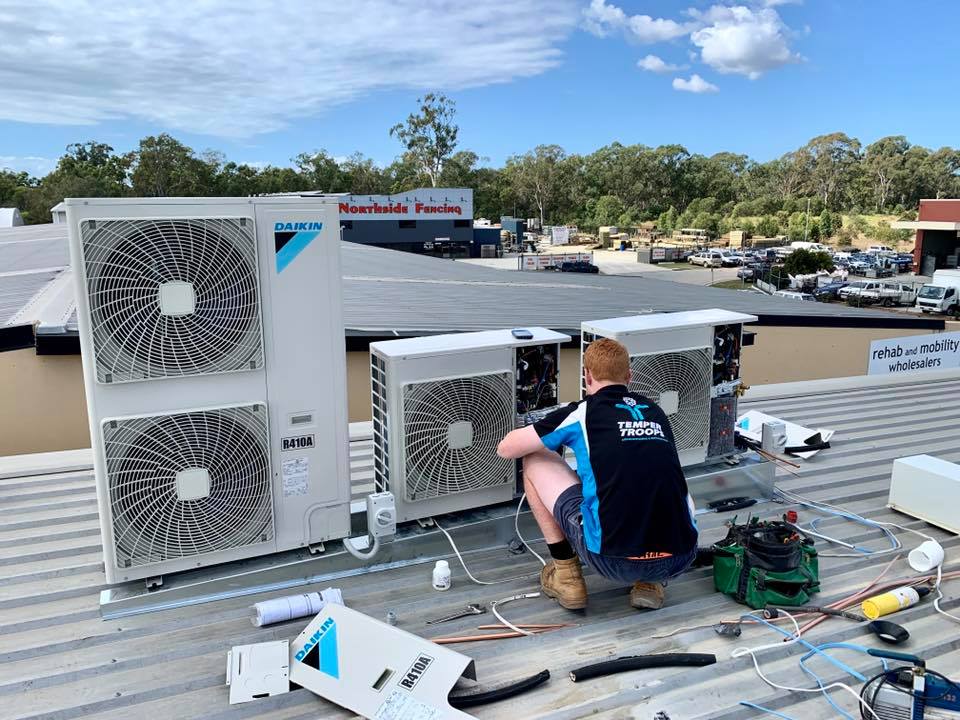 For repair of your Brisbane Ducted A/C,
rely on Temper Troops.
Different Types of Air Conditioner
As earlier said, there are several types of ducted air conditioners. In this section, Temper Troops will review a few of the air conditioner available to our clients. They are as follows;
Ducted Refrigerated Air Conditioning is also known as reverse air
Best suited for family homes that require cooling systems that are also energy efficient. These conditioners are easy to control and have relatively low running costs. They also require little roof space and have a high energy efficiency level.
Ducted refrigerated variable refrigerant flow air conditioner
These are more prestigious in air conditioning and are used for multi-storey homes. They offer individual room air conditioning
Split system air conditioning
The split system air con is ideal for heating and cooling different rooms or other compact spaces. The split system air conditioner is designed for individual areas in your home. Some of the advantages of this air conditioning system are it uses less energy and can be utilized in separate rooms.
Multi split system air conditioners
The multi split systems air conditioner is ideal for heating and cooling up to 5 rooms, homes with limited space for ducted air conditioning Brisbane installation, and for controlling room temperatures separately. A Multi Split Air Conditioner lets you run multiple air conditioners with just one outside compressor, giving you independent temperature control over each room.
You can choose which rooms and the type of indoor unit for each room. Some of the benefits are; it's a convenient, economical air solution, allowing maximum comfort, with minimum running costs, because you can heat or cool rooms exactly as you need.
Secondly, with just one outdoor unit, you can choose up to 5 different kinds of indoor units to suit each room's décor.
Whether wall-mounted, split systems, ducted air con, floor-standing or a cassette type unit,
Temper Troops are the expert to call
Ducted Air Conditioning Brisbane provides you with world-leading brands such as Daikin Australia and Mitsubishi Electric that allow us to lay the platform for a design that suits you, your home, and your lifestyle. Once we have selected the capacity required we can supply several brand options and level of the system that suits both your requirements and budget.
Here at Temper Troops, we pride ourselves on our record of providing top-quality products and the highest standards of customer care over our three decades plus history of serving the Brisbane community.
Every customer is treated with the utmost care and respect, from the very start installation through our industry-leading service and guarantee packages. We are dedicated to providing the very best service and the highest quality products to your budget and requirements – part of our guarantee to you.
There is no company better positioned to offer you a ducted air conditioning Brisbane service. Get in touch with Temper Troops today.
The latest technology units and ducting
for your Brisbane home at an affordable price.
Temper Troops Ducted Air Conditioning Brisbane